The Milwaukee Art Museum has revamped the design of its intended expansion, calling back the architect Jim Shields — who had taken his name off the project — to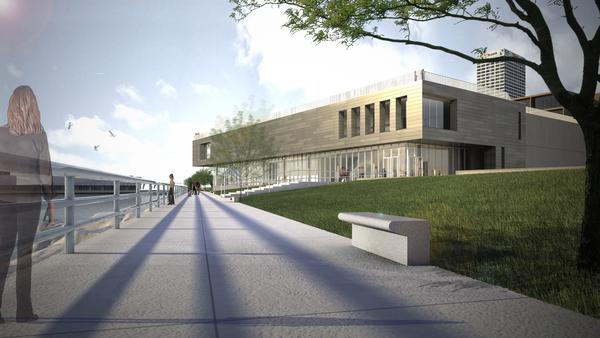 make refinements, the Milwaukee Business Journal revealed.
The new design adds wall-to-wall windows overlooking Lake Michigan on the ground floor of the addition and exterior panels with a natural metal such as zinc or copper, said Shields, of HGA Architects and Engineers, Milwaukee.
Previously, the museum had released a "boxier, mostly white" building plan, but director Dan Keegan said that was "conceptual and unfinished" and never the final version. 
The last design had blank white walls facing the lakefront for a portion of that space, shielding an interior gallery from the sun. The new design shrunk that gallery space by 1,500 square feet so the exterior walls can instead have windows, Keegan said.

The result is what Shields called a "community living room" in that space, with floor-to-ceiling windows. There will be tables there for a cafe and room for display of sculptures, for example.

"The galleries were pushed back a bit in order to add this open, transparent space," Shields said.
The exterior materials have also changed, from white to earthy-toned. The Milwaukee Journal Sentinel, which had criticized the initial plan, also had a story on the revision. I was  not so against the old plan,  but this one may be better on some grounds (the exterior look) and worse on others (less gallery space). I can't tell if the building is too close to the lakefront, which is a concern I had. We shall have to see.
Photo Credit: Courtesy of the Milwaukee Business Journal