In two opinion pieces, the grandson of the Delaware Art Museum's founder — and current board chair — faces off against a former member of the museum's collections committee regarding the museum's decision to sell art works to pay its bills. Both add facts or make some interesting points, but it's the latter, I think, who emerges ahead.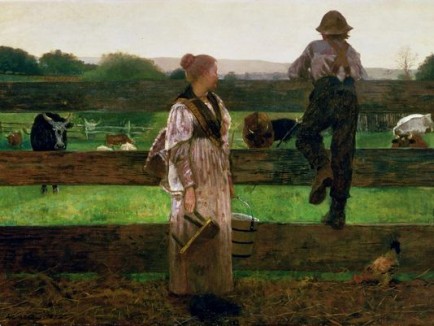 Both pieces were published in the Wilmington News-Journal. Dick Poole — the non-trustee collections committee member until 2013 — wrote first. His piece, dated Apr. 28 and headlined Please, Don't Sell Delaware museum's art treasures — began emotionally, with him "on my knees begging" trustees not to sell. It got much better when he asked financial questions, for example:
…recent financial history demonstrates that the Delaware Art Museum already has survived much worse financial stress without closing or selling art that has long been accessioned into its collection. At the depth of the Great Recession in 2008-2009, the Museum's reserves fell to $20 million while it was saddled with a debt of $25 million. At its Annual Meeting in 2011, the Museum announced that it had refinanced its debt until 2013 "on very favorable terms." By year-end 2011, reserves had climbed to almost $24 million, and the debt had been reduced to $21 million. The Museum negotiated a plan to pay off $6.5 million of debt in 2014, $7 million in 2015, and $7.5 million in 2016, with no mention of selling art to do so….

…at the end of 2013, the reserves were up to $25.6 million, and the debt was reduced by $1 million, to $20 million. Contrary to the impression created by the trustees' announcement that it must sell artwork from the collection to avoid shutting down the Museum in October 2014, the Museum's Audited Financial Statements as of December 31, indicate that "the Museum has the option to convert the bonds to a variable rate loan to be paid in monthly installments at the bank rate [of 8%] until the loan is paid in full."

On May 6, 7 and 8, the Museum trustees are holding …Q&A sessions….let's propose that the trustees put a hold on their decision to sell our art, agree among themselves to raise $3.5 million to be matched by $3.5 million from the Museum's membership and art lovers throughout the State, use the $7 million in proceeds to pay down the debt, and refinance the remaining $13 million in debt.
Meanwhile, the board chair — Gerret van S. Copeland — answered no questions and issued no response to that challenge in his piece, dated May 3 and headlined If the Art Museum closes, we lose a piece of ourselves. He reasserted that "the trustees considered every reasonable option to pay off the debt – including fund raising, strategic alliances, and refinancing with local and regional banks. But none proved viable."
He then declares that raising money, as Poole proposes, would not be that simple:
…It took the trustees four years to raise $6.7 million of a $10 million campaign to celebrate the museum's centennial. Over the past five years, our volunteer trustees have generously given more than $5 million in personal contributions to support museum operations. Before the trustees voted, we approached our funders to ask for their support. Many of them told us they would be happy to support us if we could relieve the debt. Needless to say, the expectation that we can raise tens of millions of dollars in a short amount of time is not possible.
That's an amazing statement. The museum has 19 active trustees, according to its website, plus two honoraries. Those numbers suggest that they 1) are not particularly generous and 2) don't believe in the museum enough to invest in it while it's in the red. It looks like they are saying they won't throw good money after bad.
Yet the museum's board voted for the museum's recent expansion, which is why it has such a hefty debt load. I realize they are not all the same players — three trustees were elected last May — but Copeland's opinion piece is truly revealing, perhaps in more ways than he intended.
Photo Credit: Winslow Homer, Milking Time, which has disappeared from the museum's walls and database and may be for sale