Yesterday, the Museum of Fine Arts – Boston announced that it was putting on view "a special loan of the beloved Norman Rockwell painting, The Rookie (The Red Sox Locker Room)" from 1957. MFA made it a celebration of  the "third World Series Championship in a decade" for the Red Sox, and said the painting will be in the galleries for just six days, through May 4.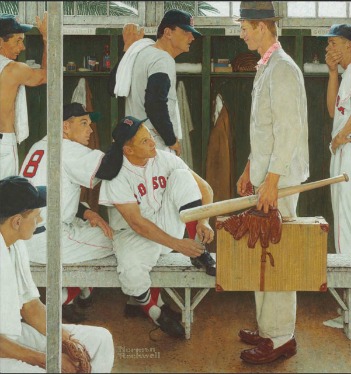 Why? Because it is "being offered at auction at Christie's (New York) on May 22" in the American art auction. The MFA didn't day, but the estimate is $20- to 30 million. It did say:
The MFA is the only place where the public will be able to see the celebrated painting in Boston––which depicts the Red Sox locker room in 1957 during spring training in Sarasota, Florida––before it goes on the auction block. Rockwell's classic work, portraying a group of seasoned veterans giving the once-over to the team's newest player, will be on view in the MFA's Sharf Visitor Center. The painting was also on display at the MFA in 2005 and 2008, following World Series wins.
Well, not quite. Won't it be in the sale exhibition? But that's minor — the painting is already highly valued, and may not need the endorsement of the MFA. After all, it has already been on view there before. It was acquired by the current owner in 1986.
Six days on view may not mean much, but it nevertheless raises the painting's profile. Aside from the MFA, the only other museum to have shown the work, which was the March 2, 1957 cover of the Saturday Evening Post, is the Norman Rockwell Museum. Small as this is, I still think that museums shouldn't be used to enhance value right before a sale.
On the other hand, I do give the MFA credit for disclosing the auction right upfront.
Photo Credit: Courtesy of the MFA