Most movies about art and artists leave a lot to be desired. We shall see how Picasso is treated in a movie about the making of Guernica, with Antonio Banderas starring as the artist. Banderas, who like Picasso is a Malaga native, said that he "turned down the chance at one point of playing Mr. Pablo, but the time has come in my life where I understand him better, and I am nearly at the age he was when those events happened, in 1937, when he was 55 or 56, and I'm getting close," according to Fox News Latino. Banderas is 54.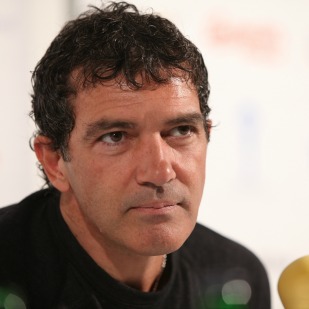 Carlos Saura will direct the movie, to be called "33 dias." That's about how long Picasso spent painting Guernica. 
Oh, the movie will also star Gwyneth Paltrow; IMDB says she is "rumored" to be playing Dora Maar.
You can find a few more details are here, but there's nothing on a production schedule. IMDB puts release as 2015, and lists more cast and crew members.
I couldn't think of any good artists' biopics — I haven't seen that many — but it turns out that Getty curators have been pondering the question, and they made a list. In a February blog post about art in movies, they named these as "the best biopics":
The Moon and Sixpence (1942), about the life of Paul Gauguin
Moulin Rouge (1952), about Henri de Toulouse–Lautrec
The Agony and the Ecstasy (1965), starring Charlton Heston as Michelangelo
Caravaggio (1986), about the story late-Renaissance master
Camille Claudel (1988), about the tormented sculptor (and Rodin's muse)
Basquiat (1996), about the brilliant American painter
Artemisia (1997), about the 16th painter
Pollock (2000), which includes the story of one of the artist's most important commissions, Mural, 1943
That post also lists movies, good and bad, that have "art on the big screen." Where do you think they put Legal Eagles, about the Rothko case?