The Miami art museum, now known as the Perez Art Museum Miami, released attendance figures for its first four months of existence the other day — they're great. But they raise two questions.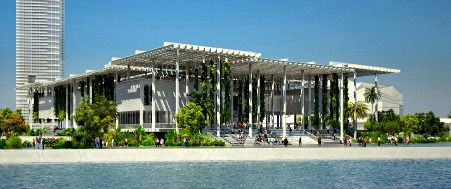 First the numbers: Since its December opening, the museum has welcomed 150,000 visitors. Massachusetts-based ConsultEcon had estimated 200,000 visitors for the entire first full year, according to Miami Today. One caveat: the projection was made in 2008, partly based on attendance in the old building. Nonetheless, congratulations are in order, and I agree with this quote from the article: "It's fantastic. We're very happy… and exhausted," said Leann Standish, deputy director of external affairs. She also said that social media was spreading the word, and "I have never seen so much community ownership as there is here." Also,  "the visitors love to shop," Miami Today said, "PAMM's retail shop has had to restock multiple times." The museum is adding some staff to accommodate the crowds, as it probably must.
The two questions:
It would be prudent to question whether the current rate of attendance in sustainable — will the number really be 450,000 for the year? Or are people going to be one-time visitors, to see the building, take a look, and and that's it? That is the pattern at most museum expansions; attendance often drops to previous levels. I wish the article had provided a membership number, in context with past numbers at the old building — individual membership costs just $55 a year, a reasonable number.
From afar, the upcoming exhibition schedule looks strong, so we'll soon see if art is the draw or if the building/events are the draw.
Speaking of events: the article said "The museum fields 100 calls a day to reserve space for private events…" That is amazing, and obviously they are not all booking an event. So how many private events have there been? Is private event attendance included in that 150,000 total? Are attendees looking at art? Or spending all their time on the "sprawling outdoor plazas with lush vegetation"?
Event popularity can be good, too — I'm not complaining about it, just asking for clarification.