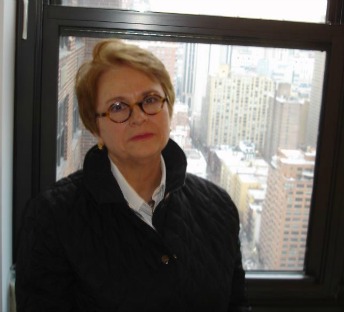 I could barely believe it when I read that the American Folk Art Museum, saved from dissolution only when it unhappily sold its "new" building to the Museum of Modern art in 2011, is expanding again. But there you have it, according to The Art Newspaper.  Yesterday, it reported:
The American Folk Art Museum plans to open an annexe in Queens to house its collection and library. "We have just signed an agreement," the museum's director, Anne Radice [at left], says. The annexe will also provide the institution with additional space for exhibitions as well as improve access for researchers, she says.

The Queens annexe will be near the LaGuardia Performing Arts Center, confirms a spokeswoman. This puts it in the same neighbourhood in Long Island City as MoMA QNS, the Museum of Modern Art's satellite storage and archives, open to scholars by appointment only.
Storage, library — they may need the space. But this also sounds like that "lebebsraum" impulse, which can be all-consuming and often wrong. There isn't much syngery with MoMA QNS, as it is not an exhibition space. I've been there and noticed very little street traffic that would suggest the area would support "space for exhibitions." TAN does not specify whether this is a lease or a purchase, and there's no announcement on the museum's website.
Plus, while recovering, the folk art museum is not fully stabilized after its financial woes of the past several years. Its most recent 990, through last June 30, reports net assets at just $8.2 million — a lot better than the previous year's minus $4.3 million, but still.
I hope the folk museum has done its sums properly. I would hate to see it in trouble yet again.