I'm often skeptical of museum expansions; often, they're really not needed, and they're not paid for in advance. Boards often overestimate the expected visitorship (which often falls to pre-expansion levels after the first year) and underestimate the additional costs of maintaining a larger space.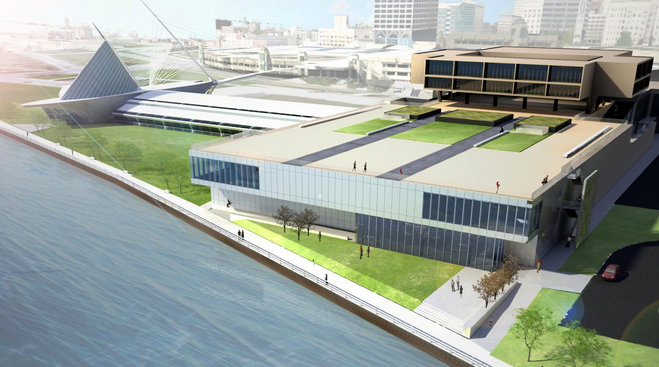 So when I heard some months ago that the Milwaukee Art Museum planned to expand — it seems like only a few years ago that it opened its signature Quadracci Pavilion, designed by Santiago Calatrava (which doesn't leak, management there tells me; other parts of the museum leak) — I was surprised.
But the QP actually opened in 2001, and when I visited Milwaukee at the beginning of this year (to review its wonderful folk art exhibition), I ta;led about it with MAM director Dan Keegan. He made a good case, and the design announced this week, by Milwaukee architect Jim Shields, of HGA Architects and Engineers, has persuaded me.
It's not flashy. It will never compete with the Calatrava design, and wasn't intended to. It was, in fact, intended to blend in with another MAM wing, the 1972 David Kahler addition. Plus, the cost — part of a $15 million project, of which $13 million has been raised — won't break the bank. And it does two good things: adds an entrance on the building's waterfront side and expands gallery space by 8,000 sq. ft.
The Milwaukee Journal Sentinel has the story, including this part:
Initially conceived of as a soaring atrium with a cafe, seating areas and a transparent ceramic silkscreen on the exterior, the new plan calls for more functional exhibition space for art, including a 5,000-square-foot gallery for feature exhibitions and a dramatic sculpture gallery that will be visible to passers-by. The shift in design buys the museum about 8,000 square feet of additional gallery space and expands the footprint by about 1,000 square feet….

The museum's new building will also provide a new entrance where the museum's front door once was before the opening of the Santiago Calatrava-designed addition in 2001. Since the Calatrava opened, the old entrance has become an unused and deadened space, with cracking concrete and weeds outside.

As it stands now, museum visitors have to walk the length of about four football fields to reach the museum's galleries from the largest parking lot on the north side. The new lakeside entrance will give visitors a second and much closer point of entry — and places to sit by the lake as well.
Keegan is also using this occasion to rethink the permanent collection galleries, and bring together the American collection for the first time, among other things.
More details here, from the museum's website, and from the JS.
Work starts in the fall.
Photo Credit: Courtesy of the Milwaukee Art Museum