Four Richters for four Rothkos — that's the bargain.
As anyone who has visited the St. Louis Art Museum can tell you, the works it owns by Gerhard Richter are, along with its Beckmanns, among the stars of its collection. They rarely travel — people go specifically to see them. (I wish we in New York City had as good a trove in a museum.) But the museum has made an exception for pretty good reasons: the Richters, including Betty (at right) will go to Basel to the F0undation Beyeler's Richter retrospective, which will be on view May 18 through Sept. 7. That means they'll be on view during Art Basel. As SLAM spokeman Matthew Hathaway put it:
These are among the most important examples of Richter's oeuvre, and it's important to us and, presumably, the artist, that they be included in a major retrospective. The Beyeler is a world-class institution, and their exhibition will overlap with Art Basel, which will give our paintings considerable visibility.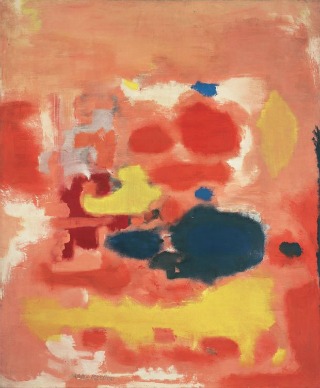 And in return, the Beyerler is sending four Rothkos. They'll be on view in St. Louis from May 24 through Sept. 14, in place of the Richters. They include Untitled from 1948 (at left), which the St. Louis Post-Dispatch describes as "one of Rothko's multiform works, with small patches of color, mostly tawny yellow, blue-gray and red on a salmon-pink background. Five feet by a little over four feet, it's the last painting that Rothko signed on the front of the painting, said Kelly, before switching to backs."
The swap also means that Rothko's Blue and Grey and Untitled (Red-Brown, Black, Green, Red) from 1962 and his Untitled (Plum and Dark Brown), from 1964, will be in St. Louis. The museum has four of its own Rothkos to put in the show, including Red, Orange, Orange on Red from 1962, two acrylic Untitled works 1969, and another Untitled in watercolor and graphite, from 1944.
I'm telling this story not only because I think it's a pretty good deal for both parties, but also because I want to commend the Post-Dispatch for writing a story about it. I think it's important for people to know how museums work.
Photo Credits: Courtesy of SLAM