As the subject of an art exhibition, that is — not on what to wear. That's the question I've been mulling since yesterday, when the Brooklyn Museum* sent out a press release announcing Killer Heels: The Art of the High-Heeled Shoe, which opens there in September.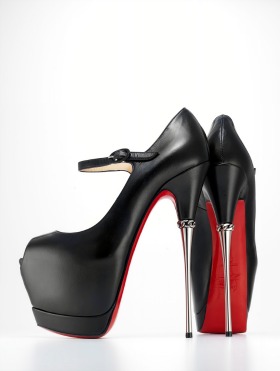 Fashion exhibits are popular these days, and many are fine considerations of costumes old and new. I've lauded some here, and panned others. With a name like Killer Heels, you know the marketing folks have been involved. That's not a bad thing, depending on how deep it goes. Curators shouldn't feel pressure to change what they're doing for marketing reasons, though it's fine to take marketing into consideration.
Which way will Killer Heels go? Hard to say at this point, but some elements of art — beyond the shoes themselves — are part of the show, which is billed this way:
Through more than 160 artfully-crafted historical and contemporary high heels from the seventeenth century through the present, the exhibition examines the mystique and transformative power of the elevated shoe and its varied connections to fantasy, power, and identity.
The art additions (except for those of you who do not believe that film is art) are:
The exhibition also features six short films inspired by high heels that were specifically commissioned for this exhibition from artists Ghada Amer and Reza Farkhondeh, Zach Gold, Steven Klein, Nick Knight, Marilyn Minter, and Rashaad Newsome.
And a few more details about the contents:
The objects [i.e. shoes], both traditionally made and conceptual in nature, explore and play with the elevated shoe's sculptural, architectural, and artistic possibilities. Early shoes on view include mid-seventeenth century Italian chopines made of silk, leather, and wood, European leather and metal pattens from the eighteenth century, and nineteenth-century cotton and silk embroidered Manchu platform shoes from China. Other highlights of Killer Heels are Marilyn Monroe's Ferragamo stilettos (1959); stiletto mules of silk, metal, and glass by Roger Vivier for House of Dior (1960); and a wool "heel hat" made by Elsa Schiaparelli in collaboration with Salvador Dalí (1937-38).  Contemporary heels in the exhibition include "Printz," from Christian Louboutin's Spring/Summer 2013-14 collection; Zaha Hadid's chromed vinyl rubber, kid nappa leather, and fiberglass "Nova" shoe (2013), made in collaboration with United Nude; Iris van Herpen's 3-D printed heel, "Beyond Wilderness" (2013); a black leather platform bootie with an 8-inch heel designed by Rem D. Koolhaas for Lady Gaga (2012); and Céline's fur pump (2013) covered in mink.
Need I say, this show will travel?  Destinations undisclosed at this point.
Photo Credit: Courtesy of the Brooklyn Museum
*I consult to a foundation that supports the Brooklyn Museum