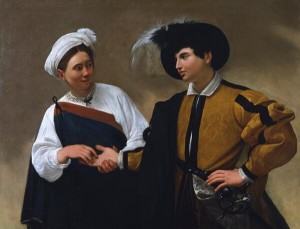 If experts can't agree, I probably can't tell (though I might have an opinion). Nonetheless, in this age of crowd-sourcing virtually everything that can be crowd-sourced, the Museum of Fine Arts in Boston is asking its visitors to answer that question.
Since Apr. 12, the museum has presented a small exhibit of four paintings by the artist in Visiting Masterpieces: Caravaggio and Connoisseurship. Two, Fortune Teller (c 1594–95) and Fra Antonio Martelli, Knight Grand Cross of the Order of Malta (c 1608), are accepted as by the master — though as the museum says they once were not. Experts are divided, however, on the other two — Maffeo Barberini (c 1596) and Saint Francis in Meditation (c 1595).
So, the MFA says, it invites visitors to "employ the analytical thinking of experts and decide for themselves: which could be true Caravaggios? Visitors are encouraged to tweet their opinions using the hashtag #TrueCaravaggio and follow @mfaboston for conversation about the paintings." I found little on Twitter last night, just these tweets:
And a few tweets by others.  But then again, I'm not on Twitter and rarely go there, so perhaps I missed some. But I like this exhibit — more details about it are here — for a couple of reasons, mainly the focus on connoisseurship and the small size, which invites interested people to linger. To me, the votes — or discussions on Twitter — are just add-ons. If they create more excitement, so be it. I hope there's something in the galleries, though, to show the actual split in professional opinion — and precisely why. I'd also like to know what the MFA's paintings curators think.
Photo Credit: The Fortune Teller, Courtesy of the Capitoline Museums via the MFA