Twenty-three years after it disappeared — a theft that was never reported publicly — an 1133 Byzantine illuminated New Testament arrived at the Getty Museum "as part of a large, well-documented collection." Now it's going home to the Holy Monastery of Dionysiou on Mount Athos in Greece.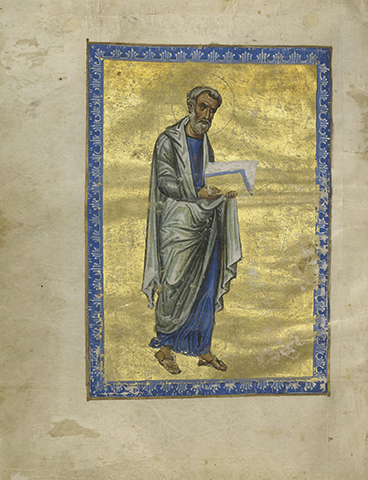 Mount Athos is a special place, off-limits to women, actually, but I've read enough about it to know that. Way back in 1998, when the web was new and The New York Times had a section called Circuits that published articles about interesting websites, I wrote about one on Mount Athos — the site doesn't exist at its then URL, but it might be this one or possibly this one.
Mount Athos was also rather secretive. But now, "Over the last six weeks," Greece has provided the Getty with information — a "1960 monastery record indicating that the book had been illegally removed. The report of its disappearance had never been made public, nor had information about the theft been made available to the Getty, to law enforcement, or to any databases of stolen art."
The manuscript is on view now at the Getty, through June 22, in Heaven and Earth: Byzantine Illumination at the Cultural Crossroads, which perhaps prompted the claim. Not that the Getty has been secretive about it. A press release about the return says "Since its acquisition, the manuscript has appeared in over 20 publications and its images have been available on the Getty website since 1998. It has been featured in 14 exhibitions at the Getty Museum, and was loaned to the Metropolitan Museum of Art in 1997 for its landmark exhibition, The Glory of Byzantium."
Nonetheless, the Getty is doing the right thing, and the manuscript (a page showing St. Matthew is posted above) will go back to Greece with the other Greek loans when the exhibition ends. Need I say it's absolutely the right thing to do?
But who stole it and how it got into that collection remains unknown.
Photo Credit: Courtesy of the Getty