I don't have the Budget Book, but the National Endowment for the Arts has just put out a statement saying that President Obama has requested $146.021 million for FY 2015 for it, "the same amount as the current year's budget."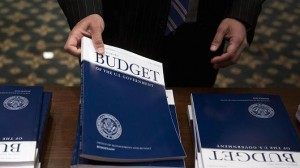 Presumably, the National Endowment for the Humanities will get the same proposed total, though I could not yet find an announcement from them.
The NEA does not yet have a chair (though the Presdent recently nominated Jane Chu, president of the Kauffman Center for the Performing Arts in Kansas City, she has yet to begin the confirmation process), so the statement came from Senior Deputy Chairman Joan Shigekawa, who has been acting head:
In these challenging economic times, it is heartening that President Obama has put forward level funding for the National Endowment for the Arts, allowing the NEA to continue our mission of providing all Americans opportunities for arts participation.
I think this is the best that could be expected, given the times. Here's a history of NEA appropriations.
The endowments are too small to register in the giant $3.9 trillion federal budget's "big picture" analysis, but it's interesting nevertheless to look at the Washington Post's breakdown of which departments would get more, and which less, if this budget were miraculously approved intact by Congress. It's here.
Photo Credit: Courtesy of Getty Images via Bloomberg and CNBC