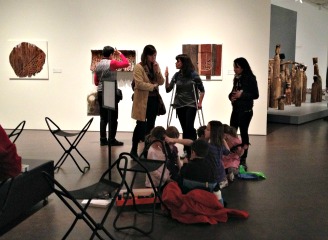 I like kids, and I like to see kids in museums. But maybe with a few boundaries.
A feature article that appeared in recent days in several places — here it is in the Chicago Tribune, headlined Taking the Kids — and exploring an art museum in a new way — reminded me of an exchange of views I had on this just over a year ago with Christoph Heinrich, director of the Denver Art Museum.
I visited the museum last January, and at times it seemed that children were everywhere, but that they could have been anywhere. In other words, many were just playing — they may have been coloring, but some were just horsing around or talking, in ways unrelated to what was in the galleries. I took a couple of pictures: one, top left, of kids in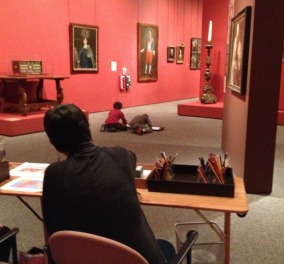 the El Anatsui exhibition, and right below, of kids in the museum's Spanish Colonial galleries.
My question is, if they could have been anywhere, wouldn't all museum-goers benefit if they didn't have to step around the kids to see art? (Some were more rambunctious in that El Anatsui show than my picture suggests.)
I know that will get some people angry, and I raised the issue with Heinrich. He made two very valid points. One, I was visiting during what was still Christmas break from school, and the museum (well, parts of it) was very crowded that day, with more children than usual.
What's more, Heinrich said, Denver is a family town, and the museum must cater to families.
I agree. That's why I liked reading the above-mentioned article, which talks about the museum's "Backpacks and Art Tubes," the former "full with artmaking, games, and puzzles" and the later for those that are "Short on time."
As the article put it:
…You can Live Like a Chinese Scholar in one exhibit or create an American Indian horse mask in another. Become a detective, as you make your way through the furniture gallery.

Did I mention these backpacks are yours to borrow during your visit? That they're designed for different age groups, including preschoolers? If you are short on time, the kids can grab an Art Tube with one simple activity, like decorating special eyeglasses to enhance your viewing pleasure. This might explain why on weekends and during school breaks one in four visitors to this museum are kids. And, given Denver's large Hispanic population, every activity is bilingual.

You'll also find hands-on family activities throughout the museum. For younger kids, there is a dress-up area where they can try on Chinese robes and make their own paper robe….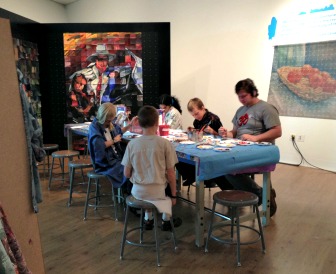 The writer, Eileen Ogintz, continues with more  and adds a little about what's going on at a few other museums, too. All of the activities are about art and art-making, not just playing. And in Denver, the backpacks and art tubes are just two of the many available "Kids & Families" activities and programs.
At the time I was there, the Denver museum also had a Paint Studio, designated for experimenting with paint, adjacent to a contemporary art exhibit, as I recall. It's at right.
So let me repeat — lest I be misinterpreted — I want to see children in museums as much as anyone. But I do think there are boundaries, and I applaud the museums, like Denver, that are working hard to make the link with art and artmaking clear, even if they are not always successful.
Photo Credits: © Judith H. Dobrzynski