Not a museum in Maine, where he painted for much of his last 40 years. Not a museum in New York, the center of the U.S. art world, or in Los Angeles, the west coast hub. Or New Jersey, Marin's birthplace.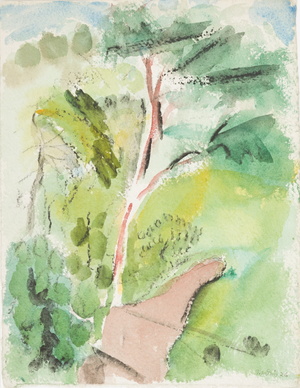 No, Norma B. Marin, the artist's daughter-in-law, recently donated nearly 300 watercolors, drawings and sketchbooks to the Arkansas Arts Center in Little Rock, according to the Kennebec Journal.
…Norma Marin's gift to the Arkansas Arts Center was neither random nor the result of a falling out with Maine's cultural institutions, as some speculated when the gift was announced. Instead, it was the result of a cultivated friendship between Norma Marin and the Little Rock museum and based on the expertise of the center's staff, past and present.

The curator who will interpret this gift studied Marin as part of her dissertation, and previous museum directors built the museum's reputation on artworks done on paper. The Marin gift also helps satisfy Norma Marin's goal of expanding her father-in-law's artistic impact beyond Maine, where his stature is secure and where hundreds of his oil paintings, watercolors and drawings have permanent homes in museums statewide.
To put this in context: "…Colby College Museum of Art…holds [Maine's] largest collection of Marin artwork, with more than 60 images." And, "Combined, museums in Maine have more than 100 Marin paintings, drawings and prints in their collections…the University of Maine Museum of Art in Bangor has 26, the Portland Museum of Art has 13, Bowdoin has seven, and the Ogunquit Museum of American Art has two. His paintings are also part of many private collections in the state."
So the gift is a big one.
There's a lesson here, too, in specialization — something I've championed for museums. As the KJ explained:
In the 1970s, [Arkansas Arts Center] director Townsend D. Wolfe recognized that building the museum's reputation through a strong collection of works on paper was a more affordable strategy than collecting oil paintings. He secured a purchase grant from the National Endowment for the Arts. Among the first purchases were works by Andrew Wyeth and Willem de Kooning, vastly different painters but both among the best known in their genres in the last half of the 20th century….

[Now] The Arkansas Arts Center has more than 5,000 drawings in its collection, dating to the Renaissance and including works by 19th century American and European masters. The bulk of the collection is from 20th and 21st century artists…
Strength can attract more strength.
Photo Credit: Tree, Stonington, Deer Isle, Courtesy Arkansas Arts Center Foundation Collection via the Kennebec Journal