Before I was diverted yesterday to write about a Dubai auction, I was planning to share news of the Dubai subway system. It's about to become a museum or, rather, a set of museums.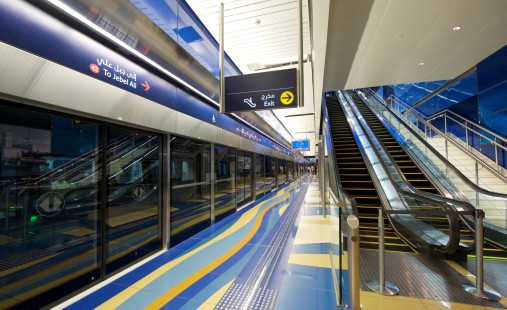 The state news agency there recently reported that Dubai's ruler Sheikh Mohammed Bin Rashid Al Maktoum wants themed museums in the subways as inspiration. As Gulf Business wrote:
"We want to inspire and communicate with every employee on his way to work, every student on his way to pursuing education and every tourist visiting Dubai," said Sheikh Mohammed. "We want to transfer Dubai Metro stations to museums accompanying passengers to all destinations."
The project starts with four stations, and each will have a theme:
Islamic arts and arabic calligraphy museum, inventions museum, contemporary art museum and visual art museum will be launched during phase one.

The Islamic art and calligraphy museum will include a collection of Islamic artworks and a display of manuscripts, ceramics and jewellery along with calligraphy paintings.

The Inventions Museum will highlight the most important human inventions in different fields such as engineering, mathematics, medicine, geography, astronomy and other fields. The Contemporary Art Museum will display paintings, design, graphic illustrations and models done by contemporary artists from around the world.

The visual arts museum will screen movies and documentaries highlighting the work of contemporary artists. It will also give visitors a chance to exhibit their work.
Gulf Business says that the Dubai subway systems handled more than 137 million passengers last year, and eventually this idea will be extended through the entire system.  It did not say who would design or implement this plan, or what artists might be involved.
But the sheikh wants it done fast: there four will be "completed within a year and will be launched during Art Dubai 2015."
Yes, I know other subways systems have art — Paris and New York, to name two. This sounds more extensive. Could be nifty.
Photo Credit: Courtesy of Gulf Business