When Philippe de Montebello was about to retire five or so years ago, one of his rumored successors was Max Hollein (pictured), the director of the Städel Museum in Frankfurt. The job went to Tom Campbell, of course, and I am  not sure if Hollein was seriously considered or if he wanted the job.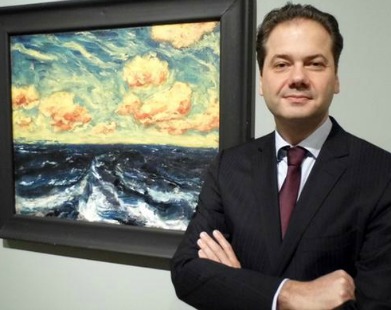 Nonetheless, the two names came together in a funny way in the last few weeks, thanks to two completely different articles. In the U.S., the East Hampton Star interviewed de Montebello and in Germany, Deutsch Well interviewed Hollein.
When asked about his combination of talents, in both art and finance, Hollein responded, in part:
I think the job of a museum director is, on the one hand, to define the programmatic identity of the institution, while on the other hand also to make sure that the museum has the potential to develop and evolve – when it comes to the program and the collection as well as the financial circumstances and the culture of support that is directly linked to that. From the beginning on I saw that as one of the main tasks, and I hope I accomplished that to a certain degree.
And asked about his tactics beyond Frankfurt, he said:
We would definitely act differently in another city. However, as a cultural institution we're generally faced with a situation in which the public authority has not been the single source of financing for a long time – and it also doesn't want to be. That's something you simply have to realize and you have to find creative solutions that can be different depending on the city and the cultural sphere. But what's the same everywhere is the direction of the action and the necessity to act.
Back in the U.S., a profile of de Montebello noted a few pertinent notions:
"I think the role of the museum is to make things accessible, make it as attractive as possible, make engagement with the work as comfortable as possible, and as rewarding as possible, both intellectually and visually. Once you've established lighting, text, the conversations among the works, the way you place them side by side and the distance, then it's up to the visitor. I don't think curators should go around with bludgeons and compel people to do anything."
And:
"Obviously you need to balance the budget if you can and be run efficiently. Yet, there is a major difference between being run in a business-like manner and being run like a business."
Somewhat unrelated, but something I feel the same way about:
"There was never a favorite work for 31 years and there isn't one now," not even a shortlist when he visits now for pleasure or brings classes. "I move around. I'm not tied only to paintings, either. I go to the Islamic galleries, the Egyptian galleries. I am eager to see what the new curator will do with the European decorative arts and sculpture galleries. I'm watching it. I'm only one block away."