On Feb. 3, Italy's Prime Minister Enrico Letta visited Qatar on a trade mission, meeting with its the Prime Minister and Interior Minister Sheikh Abdullah bin Nasser bin Khalifa al-Thani. They had lunch (at right), discussed political concerns and Letta visited the Museum of Islamic Arts in Doha. Letta admired the works on view, and before long, he "revealed that the two governments were in talks to construct a building in Venice that would later be turned into a museum," according to Gulf Times. In Venice. On the Grand Canal.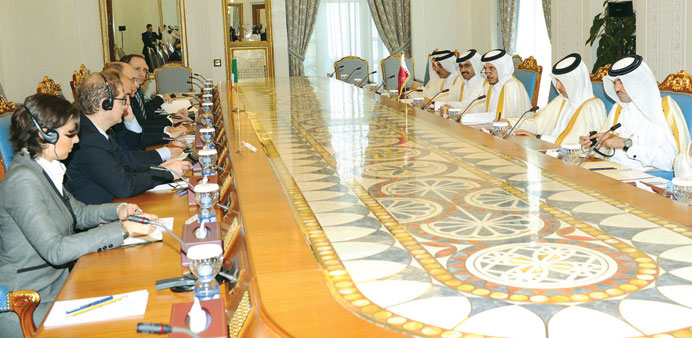 As the Christian Science Monitor later reported it:
Speaking in Doha, Mr. Letta said the Italian government had "made a commitment to explore the opportunity to build an Islamic museum in Venice on the Grand Canal." He gave few further details.
This caused a furor with the right-wing Northern League, which "has in the past campaigned for the rich north of Italy to secede from the rest of the country," the Monitor said. The League and others complained about the cost, which Giorgio Orsoni, the city's mayor, then said would be "zero" to Italians, a hint that Qatar would pay for it. Read the Monitor's article here.
These reports raise too many questions to come down on either side here. Yes, it would be nice to have an Islamic art museum in Venice, but I agree with the Northern League if it is not paid for by other countries. Venice itself needs so much work, not least to prevent it again from damaging flooding and sinking.
The Italian officials who say the museum is needed "to ease the city's heavy reliance on tourism, which provides jobs but overwhelms ordinary life in the city and turns it into a sort of architectural Disneyland" don't convince me. Won't this bring more tourists, not fewer?  Yes it will bring non-tourism jobs, but to day that "The city needs more museums, educational institutes and research bodies in order to stem a population exodus and diversify its reliance on tourists," as Antonio Armellini, a former ambassador who now serves as a special advisor to Venice, told the Monitor, doesn't ring right to me.
Finally, it's very unclear how the bruited museum will be built. Will it "probably be established inside an empty palazzo near the famous Rialto Bridge, which arches over the Grand Canal"? Or will it require a new building there? That would be a bad idea.
I suspect there's a lot more politics to go on here before the situation is clear, and until then, I think I will stand on the sidelines.
Photo Credit: Courtesy of Gulf News