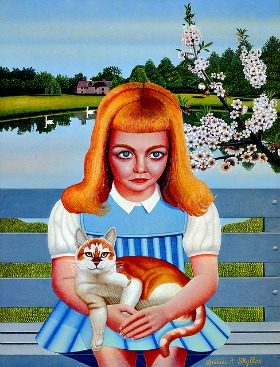 I'm talking the Milwaukee Art Museum here, and the answer — actually — is a lot of things.
Most people — especially those outside the art world — know the museum for its signature wing designed by Santiago Calatrava, the brise-soleil roofed Quadracci Pavilion (which I am happy to report — unlike many high-profile museum buildings — does not leak, according to Brady Roberts, the chief curator).
But, as close readers of today's Wall Street Journal will see, I was there recently to see Uncommon Folk: Traditions in American Art. I liked it, largely because it really showcases the collection — nearly 600 objects, mostly from the museum's own collection, which contains nearly 1,500 objects. My review is here.
Uncommon Folk is a lot for people to take in, but I think that is one of the points: visitors can't possibly stop to appreciate 600 things, but by being immersed in them you come to an understanding of the vast range of what constitutes folk art. And you pick favorites, for sure —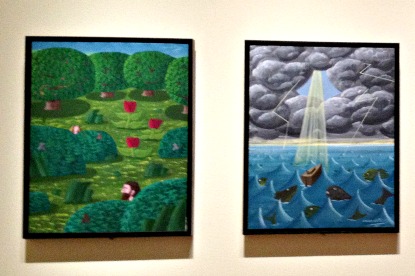 which may change the next time you go through the exhibit.
I'm not going to quote from my review — writing about 600 objects in one shortish review doesn't leave all that much room for reflecting on its entirety —  but I will post a few choice works from it here. That is  Drossos P. Skyllas's Young Girl with a Cat above and at right are four naive Biblical works by Oscar De Mejo. At MAM, they are shown all in a row, filling a wall, but I split them here to let you see them at a reasonable size. (I wish they were sharper…) At the very bottom is a spot showing work by Albert Zahn, the bird man of Door County.
You can see other images from the museum here.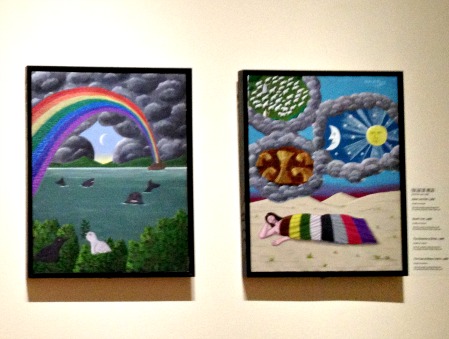 Milwaukee's folk art collection, begun with the gift of two paintings in 1951, revved up in the '60s and it is one of the things that makes Milwaukee distinctive. It's not a cookie-cutter museum, and you don't mind — at least I didn't — that there's no van Gogh, no Caravaggio, no Eakins, no etc. etc. That's because Milwaukee has unique aspects to its collection — it has 23 marvelous Georgia O'Keeffe's, 14 Gabriele Munters, 43 Emil Noldes, etc., plus wonderful examples from German painters, reflecting the city's heritage, and excellent European and American decorative arts that one does not see everywhere else. Yes, it has paintings and sculptures by masters like Homer, Warhol, etc. but you would probably not travel to Milwaukee to see them. You should travel to Milwaukee to see those other things.
As I and others have complained, not enough museums develop specialties like this (here's another that is).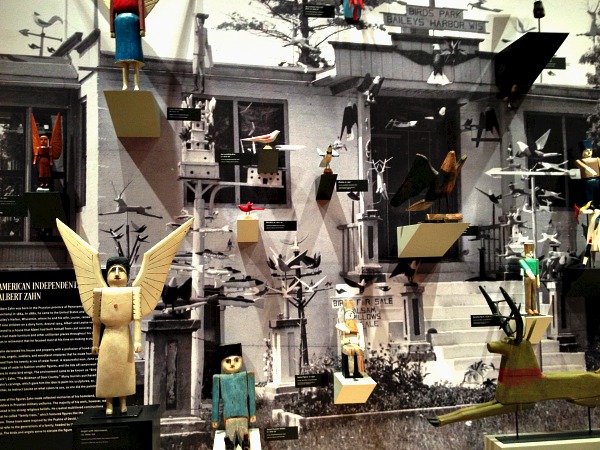 Photo Credits: Courtesy of MAM (top); all the rest by me