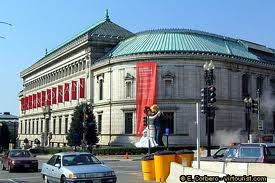 While I was gone, the Corcoran Gallery of Art issued its own obituary and — once again — managed to screw it up. It was only last April that the Corcoran formed an alliance with the University of Maryland to explore a partnership to preserve the school and gallery as one entity, but in the new release — made public last Wednesday — it doesn't even mention that attempted "solution."
According to Washingtonian, despite meetings between U-Md. officials and representatives of the Corcoran "as recently as two weeks ago to continue hammering out the details of an arrangement" between the two institutions, U-Md. learned of the new plan from a phone call only moments before the statement was issued. Read the president's statement and you'll see just how much work U-Md. put into this effort, now all a waste.
I've covered corporate takeovers in which the loser got more notice than that — despite market implications. The lack of basic courtesy by the Corcoran board and staff, if those reports are correct, is astounding.
Now onto the real issue: is the new deal sensible? (If you have not already read the details — the collection goes to the National Gallery of Art, the school to George Washington University, etc. — can read them in the Corcoran's press release.)  Given the poor and often total lack of management skill at the Corcoran, I say yes, with regret. I would have liked the Corcoran to remain an independent entity, with an engaged and committed board, one that would step up with contributions — which is part of their duty. But that was not in the cards. The fact that trustees let the Corcoran deteriorate so much before going public speaks volumes.
It has been painful to watch the Corcoran's struggles. Every museum trustee should familiarize him- or herself with the museum's decline, and make sure that he or she is not going to let it happen at their institution. And directors everywhere, working through the board chair, should encourage discussion about it.