I'm giving you really good news from the Speed Art Museum, because the news from my orthopedist today was really bad. I have to take it easy with my arm, which is getting a new cast on Tuesday, for six weeks. And typing with one hand isn't easy.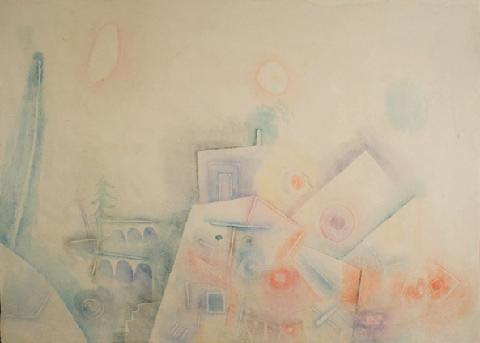 But the Speed news is a simple story: while the museum is expanding, it has been assessing the condition of works in its collection, planning to repair damage suffered over the years. Looking through a 1998 gift from General Dillman A. Rash and Nancy Baton Rash, which included paintings by Picasso, Chagall, Dubuffet and Utrillo, it sent another part of the bequest, — Seven Blossoms, a drawing by Paul Klee — to paper conservator Christine Young in Nashville, asking her to remove the acidic core of the paperboard to help preserve it. Picking up from the press release:
In the course of her work, Young made a surprising—but very welcome—discovery. As she cautiously removed the original drawing from its mount, she uncovered a previously unknown second drawing by Klee on the reverse. "It's the kind of thing that doesn't happen to a conservator very often," remarked Young, "but when it does, it's exciting."

The newly discovered watercolor (seen in above image) drawing depicts a town or village with stylized, geometric buildings set against a landscape. Triangles on the right evoke hills or mountains, while the circle and ovoid forms in the sky are reminiscent of the celestial bodies of the moon and stars that appear in Klee's paintings from the 1910s and early 1920s.

To Young, it quickly became apparent that no one had seen the drawing on the reverse in nearly a century. "I realized that the last person to lay eyes on it was Klee," observed Young.
It's very different from Plum Blossoms. So, this Friday and Saturday, the Speed will show the work at its satellite space, Local Speed. The drawing will be displayed in a double-sided frame that makes both of Klee's compositions visible.
Good job! A preview is above right.
Photo Credit: Courtesy of the Speed