"…74 precious artifacts [have] been destroyed and…90 were damaged, but repairable…" That is the partial toll of last week's bombing in Cairo that destroyed much of the Museum of Islamic Art, according to The New York Times, which was late to the story, but made up for it on Friday with Triage for Treasures After a Bomb Blast: Sorting Through the Rubble of Museum of Islamic Art in Cairo.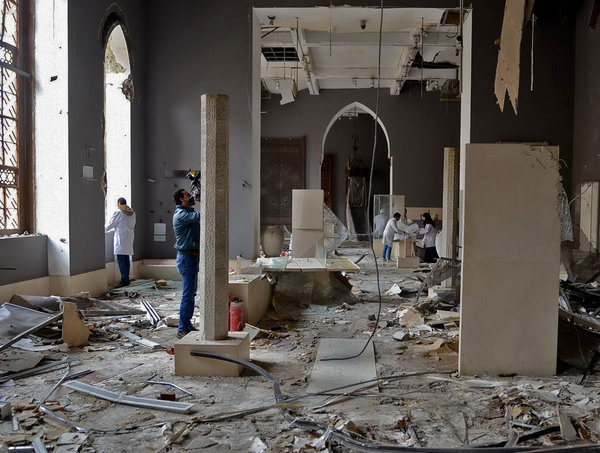 The bombing killed four people and injured 76. Ahmed Sharaf, director of the Antiquities Ministry's museum division, was quoted saying the damage "could take years" to repair. "We need funds. With financing we can do anything." The museum owns about 97,500 objects and had "nearly 1,471 artifacts on display in 25 galleries."
The article didn't go much past what we knew already vis-a-vis the museum, but it added to what we know about the situation in Egypt, post-Arab Spring. It said, for example:
While Egypt has always had its share of antiquity theft, now it's more frequent, more efficient and more outrageous. Thieves have struck Pharaonic, Greco-Roman and ancient Christian sites from Abu Rawash north of Cairo to Luxor in the south. And they're selling these treasures faster than ever, sometimes within hours.

"The last three years, there's been a drastic situation, where you see at every archaeological site excavating without permission," said Saleh Lamei Moustafa, a conservator of Islamic architecture. "They're even bringing loaders. There are only 300 in the antiquities police, armed with pistols, and they're fighting people with heavy weaponry."
It also, unusually, referred readers to an op-ed in the Times's arch-rival, the Washington Post, written by Mohamed Ibrahim is Egypt's minister of state for antiquities and a professor of Egyptology at Ain Shams University in Cairo. It was published last October, and asked for U.S. help. You can read that here.
Photo Credit: Courtesy of the Associated Press via the NYT