It's a rare museum that does what the Städel Museum just did: like an auction house crowing about new record prices, it sent out a release with attendance figures for its recent exhibition, Albrecht Durer: His Art in Context — and them compared them with previous monographic shows for other renowned artists. Some museums, as you know, refuse to share any exhibition numbers at all, which I think is silly. (Understandable, maybe, but still silly.)
Anyway, back to the Durer: in 15 weeks on view, the exhibition ended last Sunday, Feb. 2 — after staying open till midnight on Saturday — with attendance topping 250,000 visitors – "including some 23 percent from outside Germany," the museum said. It added:
"Dürer" is thus surpassing major Frankfurt visitor successes such as "Rembrandt Rembrandt" (2003) with 245,000 visitors, or "Cranach the Elder" (2007/08) with 205,000, and earning the status as second most well-attended exhibition in the nearly two hundred years of the Städel Museum's history.
The Städel stayed open until 10 p.m. on Friday and 8 p.m. on Sunday, both also extended for this exhibition.
And what artist drew more people? "With 367,033 visitors, only the Botticelli show staged in 2009 has been more successful to date," the museum said.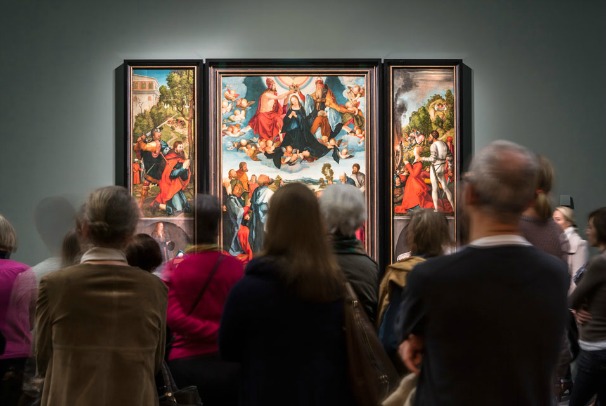 The Durer show was a blockbuster and I wish I could have seen it:
The exhibition has encompassed a total of more than 250 works, including some 190 by Dürer. Altogether, the presentation has introduced the oeuvre of the German master in the entire breadth and wealth of his artistic expression. Twenty-five panel and canvas paintings, eighty drawings, a further eighty works executed in various printmaking techniques, and books written and illustrated by Albrecht Dürer have been on view….these works have been juxtaposed with examples by forerunners and contemporaries who were of importance to the artist – whether because he creatively explored their achievements, or because his own works served as points of departure for a new rendering in the oeuvre of a colleague.
It does make one wonder why Botticelli soared so high. But never mind: congratulations to the Städel for being so ambitious. I am sure the exhibition was expensive and I am glad it paid off.
Photo Credit: Courtesy of the Städel