There's a big job opening in the museum world: today Malcolm Rogers, director of the Museum of Fine Arts in Boston, said he would retire as soon as the museum's board identifies and appoints a successor. My guess on the timing — late this year.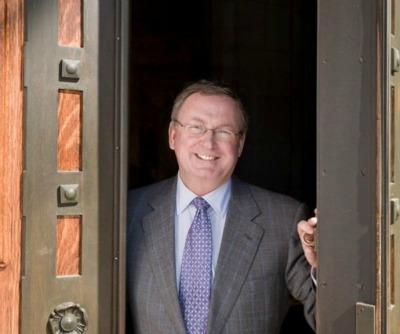 Rogers, 65, has run the Boston museum for nearly 20 years — in May, he'll become the MFA's longest-serving director — and in many ways he transformed the museum, not just physically but in mindset. He's been planning this, now that much of his vision has achieved. The museum prepared a list of his milestone accomplishments, here. And just before the Art of the Americas wing opened in fall 2010, I wrote a Cultural Conversation piece about him for the Wall Street Journal. It outlines much of his philosophy.
Even as he informed the board of trustees today of his decision, Rogers announced two big promotions: Frederick Ilchman, the Mrs. Russell W. Baker Curator of Paintings, has been promoted to Chair of Art of Europe and Benjamin Weiss, the Leonard A. Lauder Curator of Visual Culture, will become Chair of Prints, Drawings, and Photographs.
The list of Rogers' accomplishments in the press release is formidable, among them:
Rogers has expanded the Museum's encyclopedic collection with nearly 68,000 acquisitions, enhancing the breadth and importance of the Museum's holdings with major additions of 19th and 20th century photography, paintings and works on paper (Lane Collection) and West African art from the Kingdom of Benin (Robert Owen Lehman Collection).
Individual masterpieces acquired during Rogers' tenure include Edgar Degas' Duchessa di Montejasi with Her Daughters, Elena and Camilla (about 1876), Gustave Caillebotte's Man at His Bath (1884), a monumental silver Cistern and Fountain (1708–09), Piet Mondrian's Composition with Blue, Yellow, and Red (1927), David Hockney's Garrowby Hill (1998) and Ellsworth Kelly's Blue Green Yellow Orange Red (1968).
More than 375 exhibitions have been held, including acclaimed shows such as Degas and the Nude (2011), Titian, Tintoretto, Veronese: Rivals in Renaissance Venice (2009), Americans in Paris, 1869–1900 (2006), Pharaohs of the Sun: Akhenaten, Nefertiti, Tutankhamen (1999), Monet in the 20th Century (1998) and Tales from the Land of Dragons: 1000 Years of Chinese Painting (1997). Rogers also broke tradition by creating exhibitions that redefined "fine art" and appealed to new audiences, including Chihuly: Through the Looking Glass (2011), Speed, Style and Beauty: Cars from the Ralph Lauren Collection (2005), Dangerous Curves: The Art of the Guitar (2000), and Herb Ritts: Work (1996).
In addition to the Ann and Graham Gund endowment of the Museum Director's position, 39 staff positions have been endowed during Rogers' tenure—28 in curatorial, nine in conservation and two in education.
The museum says it will "celebrate Rogers' 20th anniversary this fall with a series of events, including lectures, community programs and a gala event—to be held September 6."
Although this is not a complete surprise, it's still a little shocking. I am not sure who would best fill his shoes.
I have spoken with both Ilchman and Weiss, and approve of their promotions.
Photo Credit: Courtesy of the MFA