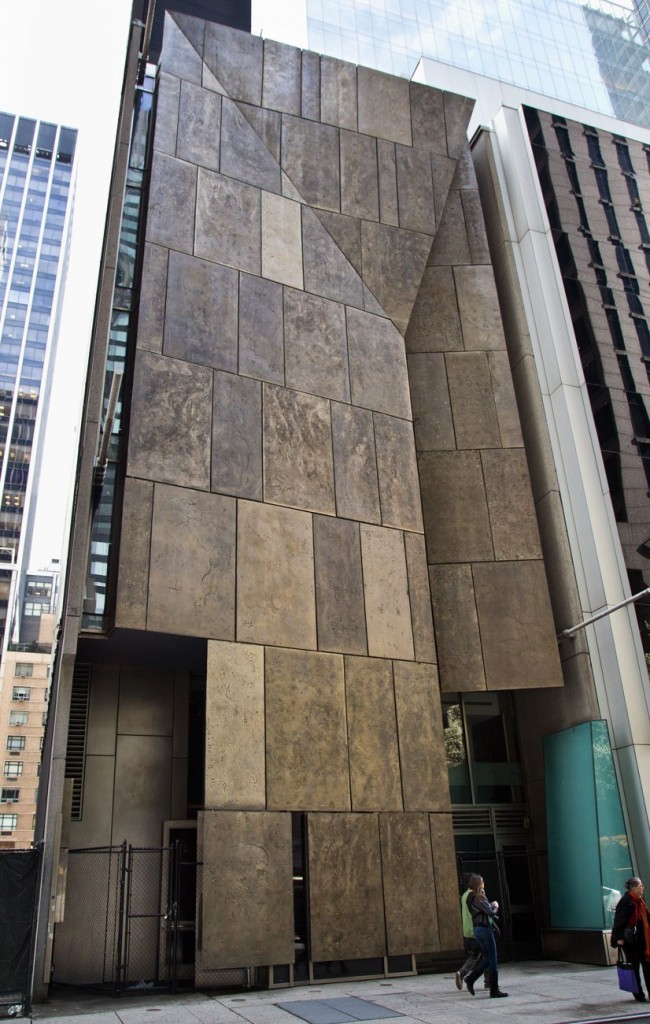 So, as we have learned, the dispute over the future of the American Folk Art Museum on West 53rd Street has gotten personal. The architects, Billie Tsien and Tod Williams, no longer speak with Liz Diller and Ricardo Scofidio, who studied the problem for the Museum of Modern Art,* which has been trying to raze the building, and decided the 10-year-old building has to go. It was bound to happen, given the cast of characters and the ambitions of MoMA.
People have been asking me about the issue for days now: I guess one has to take a stand.
I'm with MoMA, and have been since it bought the Folk Art Museum in 2011. While I sympathize with Tsien and Williams, and while I am not sure I like MoMA's new plan in its entirety (let's see all the details first), the art must come first in any museum. The Folk Art Museum may have been an "aesthetic gem" to some — certainly not to all, as that is a subjective judgment — but it never worked for the art it was to display, not even for folk art. That's its prime purpose, yet the awkward angles and small galleries made it fail that purpose.
A lot of new museum buildings are wanting nowadays. But as architecture critic and former director of the Cincinnati Art Museum Aaron Betsky wrote nearly three years ago, it's usually for the opposite reason — they're just big boxes, highly expensive ones at that.
When I speak with people at museums, usually off-the-record, about this issue of poor museum architecture, I almost always get the same analysis: architects, being creative types, want to do what they want to do, and boards are afraid to question their judgment. Directors are afraid to contradict their boards. Meanwhile, neither the boards nor the directors have studied the problems at other museums — poor flow, wrong entry point, misshapen or poorly sized galleries, etc. They don't head off problems.
True, the MoMA-Folk Art mess occurred when ownership changed, not because the Folk Art Museum expressed unhappiness with the building (though I had heard some grumblings). Yet somehow museums need to get a better handle on the buildings they keep erecting — or else, as MoMA keeps doing, we'll keep rebuilding and rebuilding but never improve the situations. Many people I know believe that MoMA hasn't had a good building since the 1960s.