Renewed bombing in Cairo has destroyed the highly decorated facade of the Museum of Islamic Art there, and severely affected much of the art and artifacts inside. The damage occurred on Friday, when a powerful car bomb exploded in front of the adjacent headquarters of the security police, according to Ahramonline.  The bomb, which killed four people and injured dozens more, also damaged the nearby Egyptian National Library and Archives building.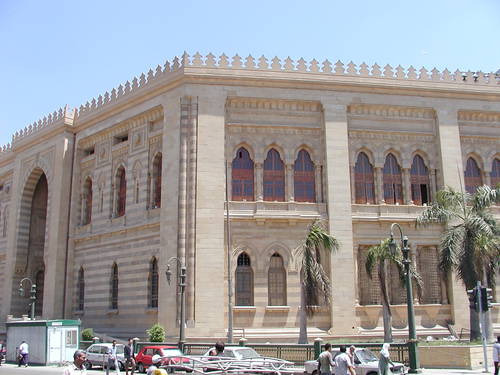 It's unclear what can be salvaged inside the building, which dates to the 19th century. The collection includes wood, metal, ceramic, glass, crystal, and textiles objects "of all Islamic periods from all over the world." Ahramonline said:
"The museum building is in a real mess," said [Minister of State for Antiquities Mohamed] Ibrahim, describing the interior of the museum as "topsy-turvy." According to Ibrahim, a number of ceilings inside the building collapsed, and some artefacts were damaged.

"Until now I cannot move freely inside the museum to continue my inspection tour due to safety reasons, as the ceilings are still on the verge of collapsing," he said.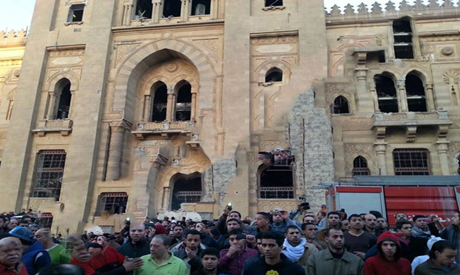 The Associated Press article dated Jan. 24 has a full report, including:
Centuries-old glass and porcelain pieces were smashed to powder, a priceless wooden prayer niche was destroyed and manuscripts were soaked by water spewing from broken pipes…

…Ceramic and Gypsum pieces dating to the Fatimid and Mamluk periods suffered the most damage, along with ancient lanterns once used in mosques during the holy month of Ramadan. Of the world's 300 rare lanterns, the museum houses 60, and five of those were ruined, said Rafaat el-Nabarawy, an Islamic antiquities professor….

…Among other destroyed treasures, he said, were glass pieces dating back to 750, including an ornate pot of a rare type of glass believed to be pioneered by the early Egyptians.

Other priceless pieces that were damaged or destroyed included a century-old wooden niche or "mihrab" used in mosques to point to the direction of Mecca during the five daily calls to prayer. Arabic inscriptions and verses from the Quran were carved on the piece, which belonged to Ruqaya, a daughter of Ali, a successor of Prophet Muhammed…
Today, the Associated Press reported that a UNESCO team was on its way to Cairo to assess the damage. UNESCO promised $100,000 to help the museum recover.
UNESCO's statement condemning the bombing is here.
The AP also reported that the museum "recently completed $14.4 million renovation [that] included 25 exhibition halls, as well as state-of-the-art security and lighting systems, a fully-equipped restoration laboratory, a children's museum and a library, much of which was gutted by the blast."
The pictures I've posted are before and after shots.
Photo Credits: Courtesy of UNESCO (top), of Ahramonline (bottom)