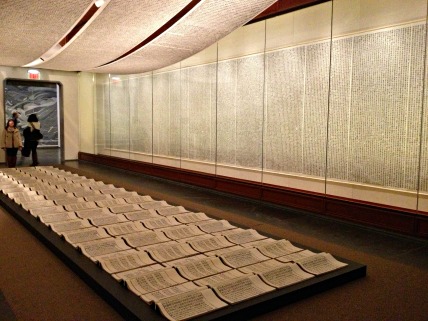 Few people in the art world would say that contemporary Chinese art is underexposed, but Ink Art: Past as Present in Contemporary China, is a stunner and perhaps a sleeper at the Metropolitan Museum* just the same.
Curator Maxwell Hearn has chosen well, I think, and better yet — though this creates a problem or two — has decided to install the show in the Met's permanent galleries for Chinese art. This encourages, perhaps even forces, visitors to view the show through a historical lens. The downside, the problem, occurs because the show is a little disjointed, with some pieces scattered in with the collection.
Lee Adair Lawrence, in The Wall Street Journal, liked the exhibit a lot, saying:
Hard to imagine a better way to express the vitality and questioning that has characterized China's art scene for the past 30 years. After the devastation of the Cultural Revolution, artists gradually gained easier access to European and American art scenes and could stay abroad for longer periods. They were now experimenting and pushing boundaries, looking outward and inward, wrestling with the past as they shaped their future.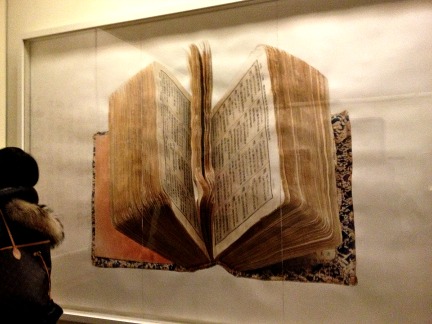 Roberta Smith, in The New York Times,  was more critical, saying:
The show endures a scattered installation, includes works that don't always rise to the occasion, and wanders off message in spots, especially with several sculptures that don't seem to belong here. This ploy seems to allow for some signature objects by Ai Weiwei, a marquee figure whom the Met may have deemed essential but that the show could have done without.
Both know much more about Chinese art than I do, but as I implied above, despite seeing a lot of contemporary Chinese art in recent year, my eyes were opened on several occasions.
Both, of course, mentioned Xu Bing's Book from the Sky, a fabulous installation — pictured top — and Smith called Liu Dan's Dictionary a "bravura" work, with which I agree, pictured at right.
Others I'd call out include Yang Jiechang's 100 Layers of Ink, No. 1, 2, 3 — I have just 2 and 3 in my photo, bottom left, a marvelous scroll by scroll by Yang Yongliang, and Shao Fan's 2009 Landscape made in pencil. But there is much more.
If you can, go see Ink Art.
Photo Credits: © Judith H. Dobrzynski