It was a perk of the job, and what a pleasure it was. As I reported and then wrote a short item about the Rothschild Prayerbook, which is up for sale on Wednesday at Christie's, I went over the the auction house to "look" at it. I assumed that an expert would don white gloves and let me see a few of its 150 pages.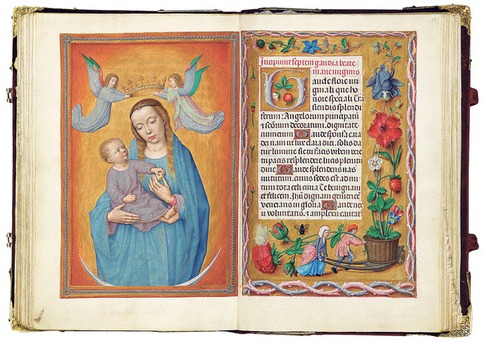 But no. When I arrived at the skybox overlooking Christie's Rockefeller Center sales room, the guard standing outside let me in (along with a representative of the PR department) and — as long as my hands were clean — invited me to page through it, no white gloves needed (that's a trend, I've learned, with books and manuscripts; the theory is that more damage is done with gloved hands, possibly because gloves make us careless).
And so I did, and discovered — as Roger S. Wieck, curator of Medieval and Renaissance Manuscripts at the Morgan Library & Museum, put it a book with "some of the finest paintings by major, major illuminators,"  and borders decorated with widely varying images that include flowers, peacock feathers, shells, architectural elements, skulls, pearls and jewels that "are unbelievably bedazzling," plus "some text pages have no decoration at all – just luxuriously wasted vellum."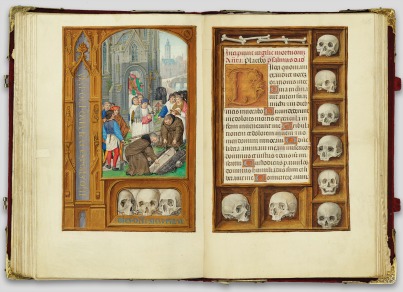 It is a spectacular prayer book, which holds the world record price at auction for an illuminated manuscript (nearly $13.4 million). I relate its background and assess Christie's strategy — putting it in its Renaissance sale, rather than a manuscript sale, and touring it to Moscow and Hong Kong — in a small article in today's Wall Street Journal on the Saturday Icons page. As Kay Sutton, Christie's London-based Director and Senior Specialist of Books and Manuscripts, noted, "It has 67 paintings, and that's almost as many as the rest of the Renaissance sale."
Since it last sold, in 1999, Wieck said, the book has barely been touched at all — he examined it then, and saw it again recently, and said, "It is in pristine condition, with no changes at all since I last saw it in 1999."
Of course, I hope that the prayer book goes to an institution – and by consensus the Getty is the likeliest American museum to buy. It was, reportedly, the underbidder last time.
Over to you, James Cuno and Timothy Potts.
Photo Credits: Courtesy of Christie's