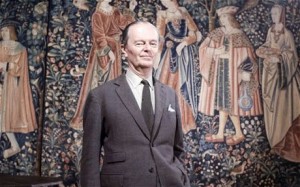 I never saw Civilisation. But I — and you — can easily access it now on a free website, along with 492 other documentaries about art, and hundreds more about science, history, war, Britain, America and so on.
The site is called DocuWatch, and I have no idea how new or old it is. It was called to my attention today by a Facebook friend, and — considering the snow that is paralyzing much of the Northeast corridor and some other parts of the country, it seemed like to perfect time to share it with RCA readers. Maybe you'll have Wednesday off.
The landmark BBC series, Kenneth Clark's Civilisation, which was aired in Britain in 1969  (I don't know when it ran in the U.S.), is there in 13 episodes (It was remastered in HD in 2011). So is an 18-part art history series, a 36-part series on Italian Renaissance artists, 24 episodes on Impressionism, plus a different series on eight Impressionist artists, two on Hitler's museum, 10 Sister Wendy's, Robert Hughes's The Shock of the New, Who the *$&% Is Jackson Pollock? and much more.
Hundreds of hours of free programming about art!