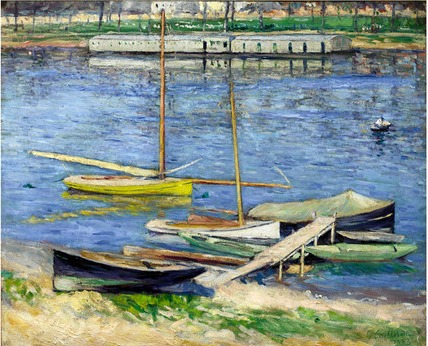 Today the Denver Art Museum announced the bequest of 22 Impressionist paintings from Frederick C. Hamilton, its long-time chairman of the board (though he stepped down from the position last year).  The press release (which is not yet up on its website) said it would elevate the museum's Impressionist collection to one of the best in the West:
The gift includes a painting by Vincent van Gogh, Edge of a Wheat Field with Poppies, the first Van Gogh artwork to enter the museum's collection; four works by the impressionist master Claude Monet including Path in the Wheat Fields at the Pourville, 1882, and The Houses in the Snow, Norway, that illustrate a range of output during the peak of Monet's career; three paintings by Eugène Boudin, the first by the artist to enter the museum's collection, including Scene at the Beach in Trouville, 1881; along with paintings by Paul Cézanne, another first for the museum's collection, Edouard Manet, Berthe Morisot, Camille Pissarro, Auguste Renoir and Alfred Sisley, as well as those of their American contemporaries William Merritt Chase and Childe Hassam. 
Hamilton is one of those trustees who dominated the board and the museum over the years, spearheading the fundraising campaign for the most recent expansion, for example, which built the Hamilton building — where these works will go on his demise. Read more about this in The Wall Street Journal story, which estimates the value at $100 million. The collection includes the Caillebotte I've posted at right.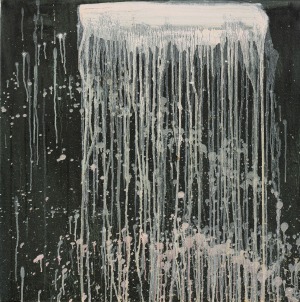 The announcement follows last week's news that the Philadelphia Museum of Art had been given 97 contemporary works, estimated at $70 million, from Keith and Katherine Sachs. And on Friday the Bowdoin College Museum of Art announced:
…its acquisition of 320 works of art from the celebrated collection of Dorothy and Herbert (Herb) Vogel—a gift that will dramatically enhance the Museum's contemporary art holdings.  Comprising works by nearly 70 artists, such as Robert Barry, Lucio Pozzi, Edda Renouf, Julian Schnabel, James Siena, Pat Steir [her Small White Waterfall with Pink Splashes is at left], and Richard Tuttle, Dorothy Vogel's gift to the BCMA ranks among the largest contributions of objects from the Vogel Collection since their major gift to the National Gallery of Art, Washington, D.C. in 1992.

…Works on paper compose the majority of the gift, in addition to photography by Richard Long, ceramics by Michael Lucero and sculpture by Merrill Wagner. Encompassing works dating from the mid-20th century to the early-21st century, the gift to Bowdoin will present the full history of the Vogel's collecting — from Herb Vogel's early acquisition of paintings by Giuseppe Napoli and Hank Virgona, to work acquired jointly by the pair during the past decade, such as drawings by Richard Tuttle and Lucio Pozzi.
So, three's a trend, right? Philanthropy experts always say that big gift encourage other big gifts. Let's hope for more this year.
Photo Credits: Courtesy of the Denver Art Museum (top). Bowdoin College (bottom)