The other day, a friend forwarded to me an email he had received from the Metropolitan Museum* — he was disgusted and I was horrified. It was an invitation sent via Paperless Post to a "Trunk Show" in the Met's Balcony Lounge of "a unique jewelry collection" designed by Joel Alexander Rosenthal "to complement the exhibition of his jewels" that have been on view at the Met since Nov. 20 — the one called Jewels by JAR.  Here's the invitation: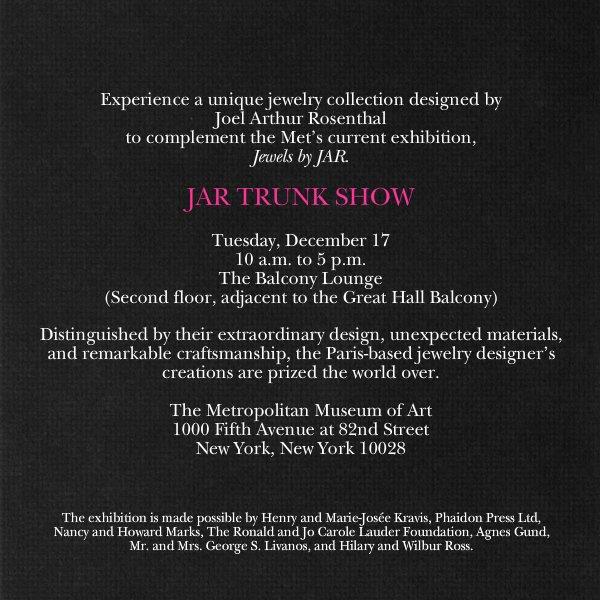 This trunk show, as you can see, will take place next Tuesday, Dec. 17, from 10 a.m. to 5 p.m. There is, as my friend pointed out, no information in the invitation of where or to whom any proceeds raised by the trunk show will be going. If it were a benefit for the Met, I am sure it would have been disclosed. That suggests that none or a very small portion of the proceeds will go to the Met.
UPDATE: It turns out that the proceeds DO go to the Met. "Maybe the language is not as clear as it could be," said a Met spokeswoman to me in a call.
No kidding.
So, I am sorry I wrote that it would have been disclosed, above, if that were the case. I should have said it SHOULD have been disclosed, as I am not the only one who misread the invitation.
This development — using Met space for commercial activity — is deplorable. Still, I stand by what I said about exhibition itself — which I have not seen, but have certainly heard about.  Although it was said to be curated by Jane Adlin, an associate curator, I'm told by a pretty reliable source that Rosenthal selected the 400 pieces in the exhibition. Although most come from "private collections," it's not hard to see that some of them are probably for sale too. It's too commercial for my taste.
I do recall another jewelry exhibition at which the Met sold — in its museum shop — high-end jewelry related to the show for a cut of the proceeds. This trunk show takes it a step further, and an odious one.
It JAR makes one wonder about the direction the Met is going: it used to set standards that other, less well-funded museums tried to follow. Now it's down there with the worst of them.
In the press release, the Met called the JAR exhibition "the first retrospective in the United States of his work and the first retrospective at the Metropolitan Museum devoted to a contemporary artist of gems." That's nothing to crow about. Let's hope — if this is a typical example — that it will be the last. As for the trunk show, the invitations should be resent with clarification. it should be stopped.
*I consult to a foundation that supports the Met.