The article I published in The Wall Street Journal last week on the delusions people harbor regarding the Detroit bankruptcy and the Detroit Institute of Arts ended with a sentence on the so-called Stalin sales, the sales of Russia's artistic treasures by the Bolsheviks after the 1917 Revolution. Handily, I had just received a copy of Selling Russia's Treasures, published last month by Abbeville Press.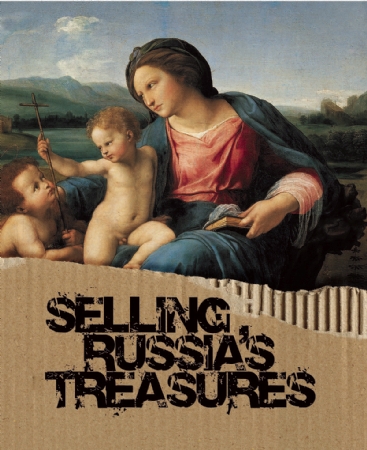 The book documents those sales in English for the first time, drawing on recently opened archives — revealing the "bills of sale, secret letters and minutes from clandestine meetings that document the crude bartering of Russia's art," the press agent wrote in a letter accompanying the book. (The book was published in Russian about 10 years ago — this version is revised and expanded.) Edited by Nicolas V. Iljine and Natalya Semyonova, it includes contributions from other scholars. It contains verbatim inserts of documents, such as the "Decree on the Confiscation of the Property of the Deposed Emperor and Members of the Imperial Household," and period photographs.
The plates are wonderful, each listing the work, the artist, the date of sale and the purchaser. For example, Cranach's Adam and Eve was sold from the Hermitage on May 12-13, 1931 at an auction in Berlin by Lepke and now resides at the Norton Simon Museum in Pasadena. The accompanying text adds much more context — tracing the history from Goudstikker's collection through Nazi hands in Germany and back to the Netherlands state after the war, etc.  A simpler example: Nicolas Lancret's Les Gentilles Baigneuses, sold from the Hermitage in May 1930 to Calouste Gulbenkian, "who immediately resold the painting to George Wildenstein." It's now in a private collection. Catherine the Great had purchased it in Dresden in 1769.
On the cover is a detail from Raphael's Alba Madonna, which has a tangled history from Rome to Naples to Madrid to London to Russia, purchased by Nicholas I. It remained in the Hermitage for almost 100 years until 1931, when Andrew Mellon bought it via three galleries, including Knoedler in New York, and gave it to the National Gallery of Art.
One of the book appendices provides a country-by-country rundown of the disposition of the art works.
Yes, you may be thinking, we know some of this — but not all, not in such detail, not so comprehensively discussed and documented.
All in all, it's a sad tale — and I've only dipped into it, not read the whole thing. It would make a wonderful gift to someone this Christmas season.
Photo Credit: Courtesy of Abbeville