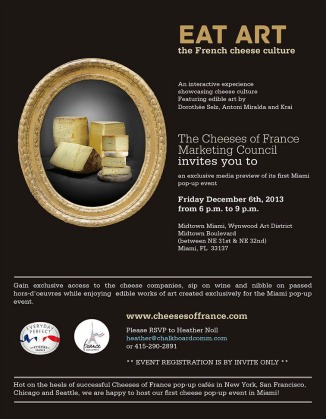 If ever you thought that Art Basel Miami Beach was turning into a circus, take a look at this press release that landed in my Inbox this afternoon. The subject line was "MEDIA INVITE to "Cheeses of France" EAT ART Media Preview." Then it went on to say:
Amongst the fabulous art on display at this year's Art Basel in Miami you'll find an oasis of delicious FRENCH CHEESES.
Now I like my cheese as much or more as anyone else, but this read like something from The Onion. The cheeses can been seen in two pop-up events, which I'm sure will be fun, and very commercial. Listen to the details:
The pop-up will be held under a special tent that is being erected specifically for the Cheeses of France event (directly across from the Art Miami tent), and attendees will be able to sample a variety of French cheeses, while enjoying spectacular interactive and edible art displays from three international artists, as well as tasty passed hors-d'oeuvres and wine pourings.
And then:
The "Eat Art" movement is an integral part of the Cheeses of France Miami pop-up event, and was created by Daniel Spoeri in the early 1960s to create synergy between art and food. For the first time ever, during the Miami Art Basel Fair, the Milk Factory, a Parisian Art Gallery specializing in the "Eat Art" movement, will showcase three "Eat Art" artists: Dorothée Selz, known as the "Eat Art" baby, who began work as an artist in the late 1960s; Antoni Miralda, who with Daniel Spoeri created the "Eat Art" movement and who later opened The Food Culture Museum, an informal museum preserving diverse popular food culture throughout the world; and Krai, an artist from Thailand currently residing in Paris, who adapted his art of sculpturing tropical fruits to the French culture and is now the only sculptor on cheeses in the world.
I wish I could be there, actually, but I am traveling in a different direction tomorrow.
Another press release today carried the words "Of course we are not allowed to mention names but if you read about a major personality like Jay Z, Lady Gaga, or Leonardo Di Caprio attending Art Basel, chances are they are checking out the Manuel Pardo exhibit at Williams McCall, the only fine arts gallery South of Fifth on South Beach. They are scheduled to come by during the week or at the official reception…" I'd be staying away from that one. And then there are all the "private event" invitations I've received from brands (ahem) I don't even know.
Celebritization of the art world has been going on for some time now.  I regularly receive emails about galas or gallery openings that cite the attendees, listing celebrities first, then "major collectors," then a couple of high-profile, global curators — and then, finally, the artists, if there are any. That's sad.
And so, as fun as a cheese event sounds, I'm dismayed by the way ABMB and the contemporary art world in general are going. ABMB is turning into a mammoth commercial opportunity, not for art — which would be expected — but for luxury products and experiences, a trade fair for the rich. Art is secondary.
Now, as for the cheese, if you go to this website, you'll be invited, too.