I guess this isn't a first, but it's still amusing to me: The New Museum in February will present the first U.S. museum exhibition of the work of Paweł Althamer, and you get to make it. That's right, Althamer "has established a unique artistic practice and is admired for his expanded approach to sculptural representation and his experimental models of social collaboration."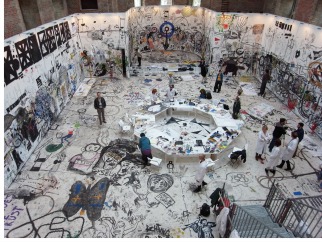 So, the exhibition will include a new version of Draftsmen's Congress, which was originally presented in Berlin (at right) in 2012. At the start of the exhibition, the museum's fourth floor gallery will be blank white space. Museum-goers (including "a wide array of invited community organizations") will, however, draw and paint on it to create the work. "Althamer will also activate the exhibition through a sculptural workshop in which the artist and his collaborators will produce new works during the course of the show," the museum says (ALTHAMER_PRESSRELEASE.pdf). The artists works will occupy the second, third and fourth floors of the New Museum, February 12–April 13, 2014.
There's more: "For his New York exhibition, Althamer has arranged for street musicians to play in front of the New Museum building on the Bowery over the course of the show with the music being broadcast throughout the Third Floor gallery" and "Paweł Althamer: The Neighbors will also feature Althamer's iconic sculptures and performative videos realized alone or in cooperation with community groups with whom he has collaborated with over the past two decades."
Well, it all makes sense in a way: first, we all like to fool around with paint and pencils. Second, we're now our own tellers at banks, thanks to ATMs; we pump our own gas (except in New Jersey) instead of having attendants do it for us; and we check out our own purchases at stores like CVS and Home Depot. We're curating our own exhibitions now, too — sometimes. Why not make our own museum art? It should be fun.
Photo Credit: Courtesy of the New Museum