The Art Newspaper — i.e., correspondent Laura Gilbert — has been reading the legal documents in the case against Knoedler Gallery following the admission of guilt by Long Island dealer Glafira Rosales, and they are juicy.
Knoedler and its former director Ann Freeman face five lawsuits in federal court. These papers highlight the gap between what Knoedler paid for works and what it charged for works — the very question I had back in August, when Freeman asserted that she was the "central victim" of the fraud. At the time, I wrote:
Knoedler sold 40 allegedly fraudulent works for $63 million. But she paid much, much less to Rosales. How does she explain that gap? Rosales knew what she had. How did Freedman get such giant markups without doing additional research, conservation, or any of the other things that allow dealers to double and triple the prices they charge?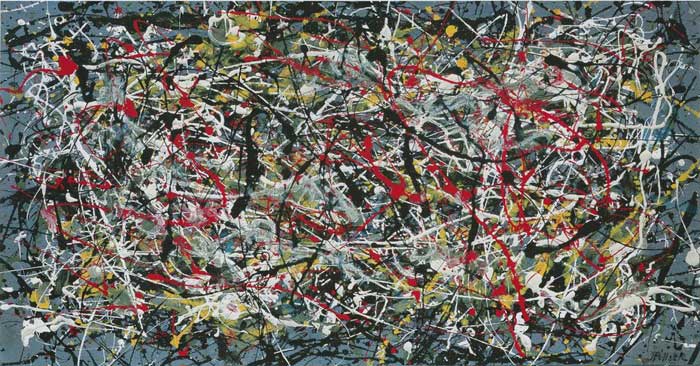 The court documents provide details the support that question. Some of the more egregious examples:
Jaime Frankfurt bought a Franz Kline, Untitled, 1956, "for a client" for $3.375m on 10 July 2008. Knoedler paid Rosales $1.25m for the work "owned jointly by she [sic] and her brother-in-law, although originally from same collection as the other pictures".

Michael Hilti, from Liechtenstein, bought a Rothko, Untitled, 1956, for $5.5m in November 2002. Knoedler paid Rosales $775,000.

John D. Howard, from New York, bought a De Kooning, Untitled, around 1956-57, for $3.5m on 19 June 2007. Knoedler paid Rosales $750,000.

Pierre Lagrange bought a Pollock, Untitled [pictured], 1950, for $15.3m in November 2007 through Jamie Frankfurt. Knoedler paid Rosales $950,000.

The "Nordrhein-Westfalen Museum" was offered a Barnett Newman, Untitled, 1949, through Oliver Wick, for $18m, but the work was "not yet sold". Knoedler paid Rosales $1m.
Some markups. I'd like to hear someone explain them.
Photo Credit: Courtesy of The Art Newspaper