Let's catch up on a little news from the Smithsonian, announced in mid-November, but which got very little attention. That's when it revealed the "Smithsonian X 3D Collection" and "state-of-the-art 3-D explorer."  Essentially, this device makes use of new 3D scanning and printing technology, with an eye toward making much more of its gigantic collection accessible to schools, researchers and the public at large.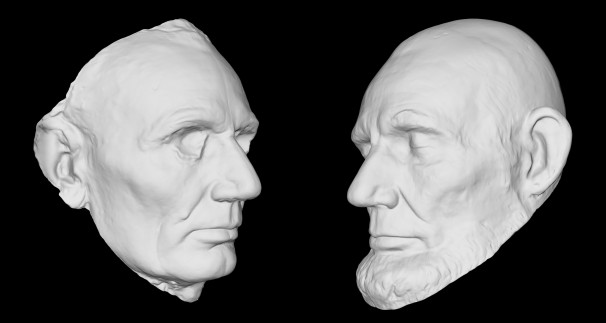 In the release,
Günter Waibel, the director of the Institution's Digitization Program Office [said], "The Smithsonian X 3D explorer and the initial objects we scanned are the first step in showing how this technology will transform the work of the Smithsonian and other museums and research institutions."
Already, the Smithsonian has scanned "the Wright Flyer," which "allows users to explore the fine details of the artifact, providing a window into the Wright's inventive genius and understanding of the principles of flight;"  a whale fossil, part of a super nova, and most relevant here, the Freer-Sackler's "Cosmic Buddha." The Smithsonian notes that such low-relief compositions are usually studied with rubbings of black ink on white paper, — but "3-D scanning, used with a wide variety of imaging techniques, can give even more clarity to the designs."
Another example is Lincoln's Life Mask, at left, which is in the collection of the National Portrait Gallery.
This is part of the trend for museums to become more interactive — which is fine for science, natural history and various other kinds of museums but, I think, tricky for art museums.
3D scanning is unquestionably growing in popularity and declining i costs. But if museums have trouble with photography, and many still do, how are they going to handle this?
The Washington Post carried an AP story on the new Smithsonian venture, available here.
 Photo Credit: Courtesy of the Smithsonian Institution, via the AP