Hmmm. Last week, the Speed Art Museum announced "Art Detectives" quoting Henry David Thoreau: "It's not what you look at that matters, it's what you see." No one can argue with that in the art context.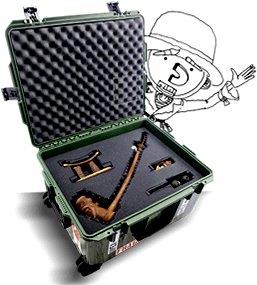 Art Detectives is an educational program for elementary, middle and high school students. With the kits the Speed provides,
Art Detectives mirrors the actual practices used by curatorial professionals when handling delicate pieces. This includes a favorite of the students: wearing white curator gloves while they learn the importance of preservation in a museum. Students discover the history and culture of the objects, as well as the valued aspects in an object. They gain a heightened awareness that allows them to look at art and museums from a more analytical perspective.
The museum has designed 12 different crates, each filled with eight objects, "real artworks and art objects from the education collection."  People from the museum, I believe, visit the schools — "up to 4 classes in a day in a consecutive order."
For example, one crate — marked "CREATE" — for 4th and 5th graders has these contents, which include a couple of prints.  Other crates focus on "criticize," "design," and so on, for different ages.
Once a schools picks and registers, the "adventure" begins:
Two facilitators roll an interesting looking crate into the classroom and begin unpacking on the provided tables. Inside are eight works of art, numerous tools, and other items worth investigating. The art works are placed on numbered and annotated mats with tools set to the side. It's a mystery game come to life in the classroom.
As you can imagine, they help identify the contents, discuss them and then the students write about them — with descriptions, I hope. More answers to FAQ here.
I doubt this program is unique, though I can't cite you others. But it's worth sharing because it does make looking at art an adventure, kind of a game, without distorting the purpose — which is to truly observe.
Photo Credit: Courtesy of the Speed