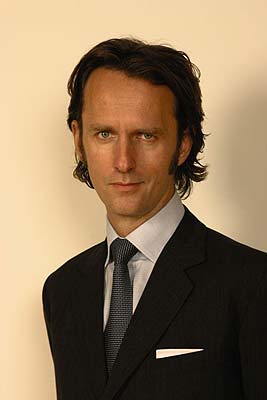 It's traditional in the news business: roll out bad news on Friday afternoon, especially one before a holiday, and an email from Sotheby's just did that:
Sotheby's announced today that the Company and Tobias Meyer, Worldwide Head of the Contemporary Art Department, have agreed to end his association with Sotheby's.

"Tobias Meyer is a respected figure and has been at the center of signature moments in Sotheby's history for more than 20 years and we are grateful for all of his contributions," said Chairman and Chief Executive Officer Bill Ruprecht. "With Tobias' contract soon expiring, we all agreed it was time to part ways. We wish Tobias nothing but good fortune."
Sounds like a firing to me, possibly because Christie's has been doing so much better in winning consignments and setting records. And Sotheby's is under attack from investors, while Christie's as a private company has no such public pressure. This month, Sotheby's contemporary art evening sale fetched $380.6 million, "the highest grossing sale in Company history" and the day sale brought $93.6 million, "bringing the November series total to a record $474.3 million. " But Christie's achieved much more, thanks only in part to the Francis Bacon triptych.
Meyer has been with Sotheby's since 1992, when he was named head of the Contemporary Art Department in London. Five years later, he was bumped up to be head of the "Worldwide Contemporary Department" and moved to New York.  He is also the principal auctioneer for the bellwether contemporary, modern and Impressionist art sales in New York and for contemporary art sales in London.
His performance earlier this month, though, at the evening contemporary sale was decidedly lackluster. Did he know this was looming?