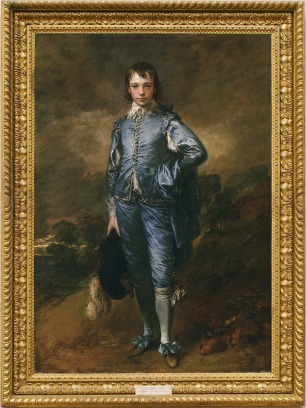 What's wrong with this picture, at left, of The Blue Boy, Thomas Gainsborough's 1770 masterpiece?
Nothing perhaps, except that styles change — and sometimes change again, reverting back.
That's what's going on right now at the Huntington Library, Art Collections and Botanical Gardens.  Henry and Arabella Huntington purchased this famous painting in 1921, for the then-record sum of $750,000. But people didn't like the painting's "bulky 19th-century frame." And in 1938, the complaints were wearing down the Huntington's curator of art collections, Maurice Block. Then,
According to a memo written on May 6 of that year, "We have cut down one of our old frames to put the Blue Boy into it."

The replacement frame [a blog post by Catherine Hess, the chief curator of European art at the Huntington, says] appears to have been an extra supplied by [Joseph] Duveen and probably had been in storage for some time in the Huntington Art Gallery basement. This frame [i.e., the one in the picture at left] is of the so-called Carlo Maratta type, widely used in England from 1750 through the turn of the 20th century.
Lots of other works in the Huntington's collection similarly have frames supplied by Duveen.
But the Huntington recently decided to reframe The Blue Boy again.
We first approached Michael Gregory, frame specialist at Arnold Wiggins & Sons in London, a workshop specializing in the adaption and reproduction of antique frames….Noting that the frame aroundThe Blue Boy appeared a bit heavy on the picture, Mr. Gregory suggested several 18th-century English frames as possible replacements. Working with Kevin Salatino, the Hannah and Russel Kully Director of the Art Collections at The Huntington, I helped select a splendid Rococo example that complements the framing of Thomas Lawrence's Pinkie.
So that's what is happening now. By the end of next month, Blue Boy will look like the digital mockup below.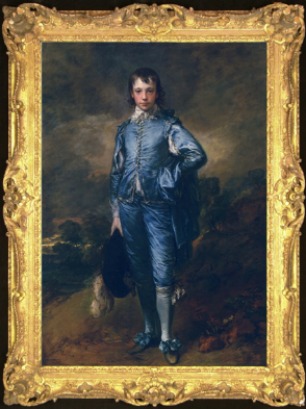 So what do you think? Which is best for the Boy?
Photo Credits: Courtesy of The Huntington