The Museum of Modern Art recently finished conservation work on three paintings by Jackson Pollock, and in the process discovered new details in each that show that "The life of the pictures is in the details." That's the kicker quote from Jim Coddington, the museum's chief conservator, taken from an online article in ARTnews.
The story, Fresh Prints: MoMA Washes Pollock's Hands, discusses work on Number 1A, 1948,  One: Number 31, 1950, and Echo: Number 25, 1951– and, as it turned out, a different discovery was made in each.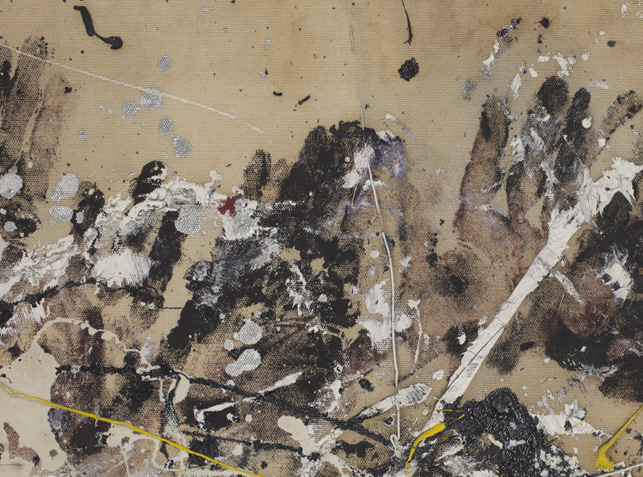 In Number 1A,
…he applied paint to his palms and pressed them on the surface. Pollock also used his hands to lightly smear color across the painting. He worked some sections with a brush. He dragged pigment directly from a tube to create ribbons of impasto. In between, he dripped and poured paint on the canvas….They were always visible in the top right portion of the canvas [at right] and various other points throughout. With the soot and grime gone, they take a more dominant role, showing how the artist used his own body as a tool to mark his newly horizontal canvases. Now more than ever, the work evokes the walls of a prehistoric cave…
In One: Number 31, 
…they saw how Pollock paid careful attention to small sections of the canvas, with deliberate application of paint, resin, and turpentine. The small marks were clearly calculated—subtle movements at odds with the typical image of the action painter engaged in a rhythmic ritual dance…
And in Echo: Number 25, 
…They knew from recollections of Lee Krasner, Pollock's widow, that he had squeezed the bulb of a turkey baster to spread enamel paint on the picture. But now they understood better how he used this kitchen tool. The lines represent the points where the baster touched the surface of the picture—suggesting a process more akin to drawing, and even less like a ritual dance.
ARTnews refers readers to posts about the project on MoMA's blog, calling them "riveting." I've read a few — they are indeed fascinating.
Photo Credit: Courtesy of MoMA