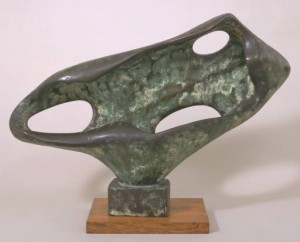 These days, museums are increasingly straying from traditional exhibition themes, like anniversaries of an artist's birth (or death), into more topical themes — and, for the record, I have no problem with this strategy. It all depends, in the end, on the strength of the original idea and the execution.
I wish I were in England right now to see an example of this trend, a show that opened yesterday called Aquatopia: The Imaginary of the Ocean Deep, at Tate St Ives. (I regret to say that I've never been to St Ives, but I have been to Cornwall, all the way to Land's End, in fact.) Here's the description:
This major exhibition brings together over 150 contemporary and historic artworks that explore how the deep has been imagined by artists, writers and poets through time and across cultures. Its briny depths are populated with ancient sea monsters and futuristic dolphin embassies, beautiful sirens and paramilitary gill-men, sperm whales and water babies, shipwrecks and submersibles, giant squid and lecherous octopuses.
So, is this more of a natural science show, viewed through artists' eyes? If so, it might be quite boring.
Tate, though, goes on to add:
Throughout recorded history the deep has been the site of shared myths, subconscious fears and unnamed desires. Aquatopia, then, is less about the ocean as it actually is and more about how it lives within us. But our wild imaginings about the ocean aren't simply escapist. The ocean is the keeper of political histories that continually resurface in the present day. Ocean myths both ancient and modern have been shaped by conquest and colonialism, and more recently by the tide of gender politics.
Among the artists in the exhibition are J.M.W. Turner (above left), Marcel Broodthaers, Oskar Kokoschka, Barbara Hepworth (above right), Odilon Redon, Lucian Freud, Hokusai, Mark Dion, Spartacus Chetwynd, Steve Claydon, Juergen Teller, The Otolith Group, Mikhail Karikis and Wangechi Mutu.
I hope it's the contemporary artists whose works deal with things like "the tide of gender politics." It's usually a mistake to reinterpret past works with an overlay of current politics.
We'll have to wait for reviews of this exhibition — I could none tonight in the British papers — and, perhaps, for RCA readers to write in, if they see it. There is no mention on the Tate website or in the press release I received of this exhibition traveling to other sites. That's sounds curious, but I think it is Tate's normal practice.
Photo Credits: Courtesy of Tate St Ives