Early this month, the Royal Ontario Museum announced a new smartphone app that allows visitors to "experience ROM objects in fun and interactive ways, including Animating a dodo, X-raying a mummy, and Skinning a dino" … and "… to interact with select objects throughout ROM galleries in ways never before possible in any museum." At the moment, the number of objects is "over a dozen," but undoubtedly more are coming.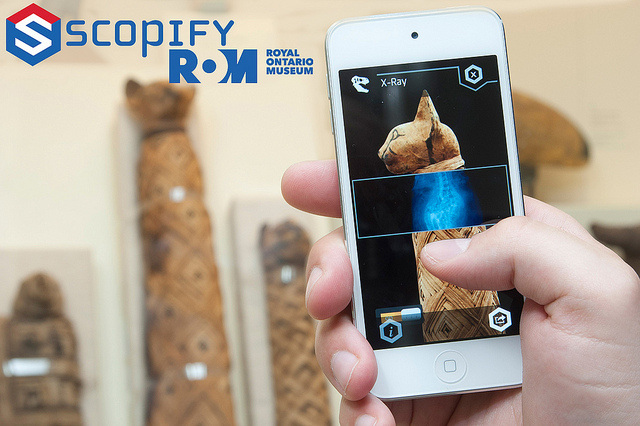 Sounds interesting to me. I think you have to try it to see, but according to the press release, here's how it works — keep in mind that ROM is a natural history museum as well as a museum of "world cultures," which means archaeology and antiquities:
With the exclusive range of custom-made ScopifyROM tools, visitors can Animate, X-Ray, Scan, Magnify and otherwise "Select" ROM objects. Be sure to visit the Schad Gallery of Biodiversity to Animate the ROM's Dodo skeleton with ScopifyROM.  As a famed extinct species, this metre-tall flightless ancestor of the common pigeon and dove comes to life in an instant, moving as it would when Dodos populated the island of Mauritius. Or, check out the Galleries of Africa: Egypt; with ScopifyROM, you can CT Scan, and Decode a Mummy.
The tools include:
Restore: Allows user to restore destroyed structures to their original form
Periscope: Allows user to travel high up in the air to examine objects from a unique perspective
Decode: Allows user to decipher various codes and languages
Discover: Allows user to see an object in its original setting or where it was discovered
Skin: Allows user to add skin to skeletons and see what they once looked like
Can this be applied to paintings and sculpture and other more recent art? I'd bet yes, in the future.
Here's more about the app on a website called TechVibes and there's a trailer, of sorts, on the Scopify website.
Photo Credit: Courtesy of ROM