Several weeks back, at an art opening, a friend mentioned to me a great exhibit taking place in England, at Houghton Hall, the country house of Sir Robert Walpole (1676-1745). From there, in 1779, his magnificent art collection had been sold to Catherine the Great — but this summer, Houghton Hall had brought about 60 paintings back from the Hermitage in Russia and elsewhere and " reassembled [them] in its spectacular original setting of Houghton Hall for the first time in over 200 years."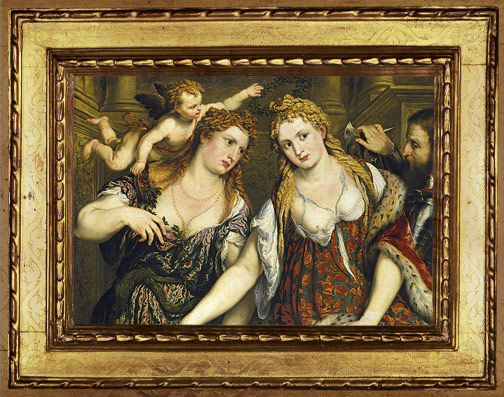 I looked it all up on the web, and promptly forgot to tell you about it until this morning, when I picked up my Wall Street Journal and found an article on it by my friend Tom Freudenheim. Lucky Tom — that he was able to travel to Norwich, 100 miles northeast of London, to see this gem, which has been extended to Nov. 24 (for those of you who might still be able to plan a trip).
The exhibit, Tom says, is:
…a very personal assemblage, reflecting Walpole's strong interest in the relatively recent, often Neo-Classical and high Baroque, styles of the 17th century. That distinguishes it from other notable English collections, such as the one assembled a century earlier by Thomas Howard, Earl of Arundel (1585-1646), who favored antiquities along with Renaissance and Baroque artists….it's also worth noting that Walpole remained in London while acquiring his remarkable artworks with the assistance of agents and advisers, and as part of the exchange of gifts with other influential people. Among the wonders on view here are paintings by a wide range of masters, such as Peter Paul Rubens and Anthony van Dyck, Rembrandt and Frans Hals, Nicolas Poussin and Bartolomé Esteban Murillo, as well as a selection of drawings that show Houghton in its prime, and a few pieces of silver from the original collection, by great craftsmen such as Paul de Lamerie.
The 1799 dispersal tale, and subsequent selloffs, goes like this:
Two hundred and four paintings were sent on a frigate in the spring of 1779 bound for the Hermitage in St. Petersburg's Winter Palace. But history plays odd tricks— in 1853 Czar Nicholas I sold a large number of paintings, one of which (a Godfrey Kneller portrait of Joseph Carreras ) eventually returned to Houghton Hall. Placed in safety during the Russian Revolution, some of the Hermitage's Walpole paintings were transferred to other Soviet museums, notably Moscow's Fine Arts (now Pushkin) Museum, in the late 1920s. Others were sold in 1930-31, when the Soviets were trying to raise cash. Andrew Mellon was among the astute purchasers, and his acquisitions are now in the holdings of Washington's National Gallery of Art.
It is, as Tom writes, a once-in-a-lifetime experience to see Houghton Hall's exquisite rooms as they looked in Walpole's day and studded with so many masterpieces. If thought I am not one of those seeing this, I can only thank the guest curator, Thierry Morel, and whoever else is responsible for this.
There's a short video showing more of the pictures on this website, Houghton Revisited.
UPDATE: I've learned that Cyark, a nonprofit in the digital documentation space that produced both exhibition kiosks at Houghton Hall and an iPad app for Houghton Revisited, is also capturing this exhibition and will preserve it in digital form.  It'll be on a website — currently a bare-bones placeholder. The Kress Foundation is providing support to the Cyark project. You can see a similar digital preservation, of Marble House in Newport, R.I., whose Gavet Collection, now part of the Ringling Museum of Art, has been digitally restored to its "original" in the Marble House Gothic Room. Here's the link.
Photo Credit: Two Women, by Paris Bordone, on loan from the Hermitage