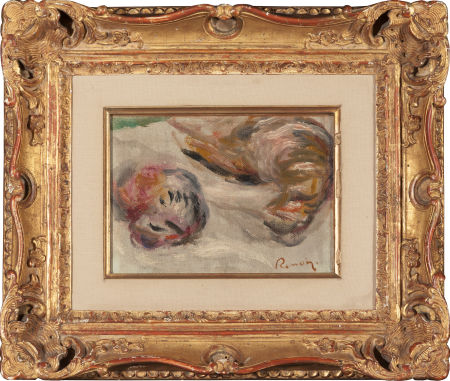 Renoir died some 94 years ago, but tomorrow Heritage Auctions is offering what it calls "The single largest archive of Pierre-Auguste Renoir's personally-owned objects — from his signature polka-dot scarf to the original plaster maquette of La Grande Venus Victrix, recently discovered in a shed in France" for sale. The auction is titled "The Unknown Renoir: The Man, The Husband, The Father, The Artist Signature Auction." Here's a link to the catalogue. It will be a live auction, but Heritage is also taking bids online now.
I browsed the catalogue, and found Renoir's marriage license and minutes of the marriage, as well as his funeral receipts. There's what it believed to be his last painting (left), a small still life of two dead birds that he is believed to have painted just hours before his death. His spectacles are there, as well as ledgers for his home decorating, his family expenses, his jewelry box, his cigarette holder, his medals, lots of letters, photos, some plaster maquettes, and personal items that belonged to his wife. I love that he kept a personal notebook of critics' reviews (below).
Some of these items — e.g., letters with Monet, Manet, Rodin and Vollard — might be useful to scholars. Perhaps they belong in museum or university collections. The press release suggests that the trove "reveals volumes about the man and his art."
The 143 lots have been estimated to fetch about $3 million.
But there is a bad-vibe story behind this sale: the items have been on the block before. In 2005, most of these items, consigned by Renoir's heirs were offered as a single lot at Hantman's Associates of Rockville, Md., according to Antiques Trade Gazette. It said: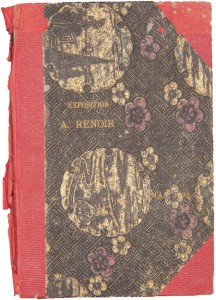 When the archive (offered as a single lot with a $250,000 low estimate) failed to attract a bid, Hantman's marketed the collection privately and received a $135,000 offer. The 'buyer' insisted Hantman's had accepted their offer and filed a lawsuit asserting their right to the collection, while the [Renoir] Trust sought damages from the auctioneers after receiving a cheque for just $100,100, reflecting the proceeds of the sale less Hantman's commission….

That the case was not settled until 2008 ensured it was Hartman's last sale – the 2005 catalogue is still prominent on the home page of a now redundant website. Heritage say their vendor, the buyer at the sale in 2005, offers the material with 'free and clear' title.
Assuming that is true, I hope Renoir scholars have done their homework on these items, and keep the important ones in the public domain. Renoir, after all, is beloved by so much of the public.
Photo Credits: Courtesy of Heritage Auctions