Remember Herb and Dorothy Vogel? Of course you do. They are the New York couple, the postal clerk and the school librarian, who collected art using only his salary for years — and eventually gave most of it away to the National Gallery in Washington and then to 50 museums, one each in every state. They were the subject of a documentary in 2009 called "Herb and Dorothy." I wrote about it then for The Art Newspaper, and to this day it is usually one of the most-viewed articles on my personal website.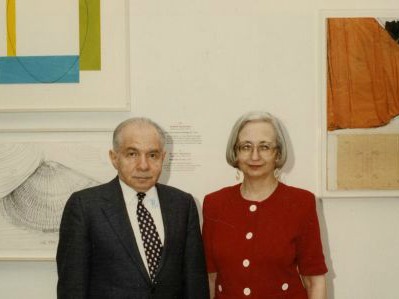 On Friday, a second documentary by Megumi Sasaki about the Vogels (Herb has since died) will premier in New York at IFC Center: HERB & DOROTHY 50X50. It's a sequel that follows the tale — "a continued look at the varying lives of the artists the Vogel's adored and a new view of the curators, docents and museum visitors who were affected by this unprecedented donation."
Here's more:
A 'road movie' through the art world, the film takes the audience on a journey across the US to eleven recipient museums, from Honolulu to Fargo, meeting curators and visitors, and introduces famous (often controversial) artists, as well as unknown favorites of Herb and Dorothy.
Sasaki has revelations, she says in her statement about this sequel — including the fact that Herb initially opposed the 50X50 idea.
I haven't seen the film, which lasts 87 minutes, but here's the trailer. After IFC, it opens at 40 other theaters around the country.