The Detroit Free Press polled 400 likely Detroit voters about the city's bankruptcy the other day, and how you read it depends on whether you're an optimist or a pessimist.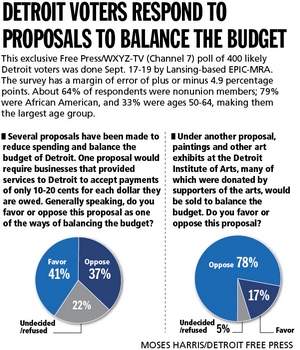 The poll discovered that 75% said they do not want city workers' pensions cut at all to help pay down debt and that 78% oppose the sale of art from the Detroit Institute of Arts to help resolve the city's fiscal crisis. Point, DIA.
On the other hand, 19% said they favored reducing pensions and 2% favored eliminating them, while 7% said they "strongly" favor selling art and 10% said they "somewhat" favor selling art. Again, point DIA.
But not by much — and both are within the margin of error, which is plus or minus 4.9 percentage points.
Detroiters want business to take the haircut, as the graphic posted here shows.
Business are adamantly against the proposal residents favor, however. Something has to give.
Photo Credit: Courtesy of the Detroit Free Press