The Founding Fathers have had better days: After reaching a zenith in popularity some years ago, historians lately are again pointing out the feet of clay on them (well, on some of them — most notably, Jefferson).
But George Washington may be a hero for our times, politically speaking. He was a man of civility, according to historians, and of course he famously declined to become king of the United States and even to run for a third term.
On this day, when the U.S. government may be shut down at midnight because of Congressional dysfunction — maybe we should look back to Washington.
But I'm not going to get preachy. I am writing this because last Friday, to not enough notice, Mount Vernon opening the latest presidential library for the first president. I visited earlier this month and wrote about it for the Wall Street Journal. My piece is in tomorrow's paper.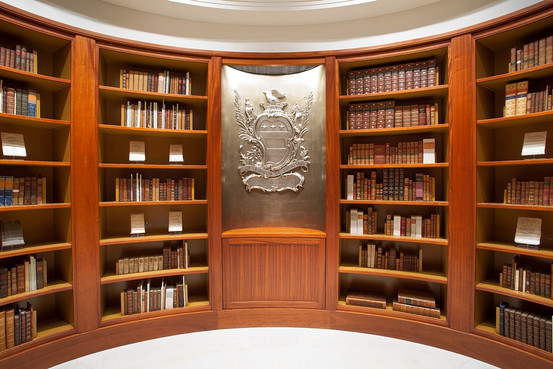 I like the architecture. The outside is not showy; it's appropriate (you can see a picture if you click on the link above). And the interior has many nice touches, including the use of American Sycamore, a wood they tell me is not commonly used for decorative purposes, but was here because Washington would have known the wood and it grows on Mount Vernon.
In the vault, pictured at left, is a mockup of Washington's book plate.
Mount Vernon also commissioned six busts, in 18th century style, for the reading room — that's Washington at right. In the reading room, on his right, appropriately, is Hamilton and then Franklin.  On his left, also appropriately are Adams, then Jefferson, then Madison. They certainly got the order right, imho.
Below is a picture of the reading room. Btw, Mount Vernon is a privately funded institution — it takes no money from the federal government (well, maybe there has been a grant or two, no big funding). It will be open tomorrow, and thereafter, even if there's a shutdown.