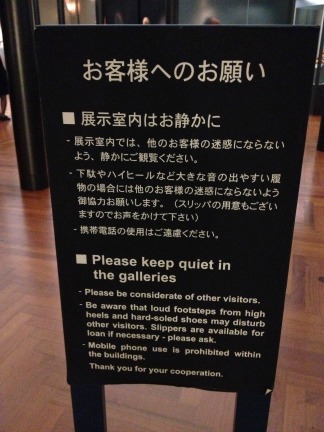 In case you missed it, yesterday's New York Times carried four letters from readers about my opinion piece in the Sunday Review section last week,  High Culture Goes Hands-On.
Here's the link to the letters.
I'm pleased, and wrote that uncharacteristically hubristic headline for this post because since I last wrote about the piece, here, I've been beaten up on some blogs. I was disturbed by them at first, but it struck me as I read them that they made their argument, to a great degree, using ad hominem attacks of me. They complained about the tone of the piece — oddly, since it was quite unemotional and dispassionate. When my critics made other arguments, they were often off-target. One writer spent his entire article refuting something I never said — that contemporary art was bad. He dredged up historical references, like criticism of the Impressionists and much art since then — all facts that had nothing to do with my piece, which was about museums catering to the public that is in search of participatory, interactive experiences all the time.
Another said he was tired of reading all these conservative views in the Times. I wonder what he is actually reading, considering that Public Editor #1, Dan Okrent, answered the question, "Is the Times a Liberal Newspaper," with the answer "Of course it is" way back in 2004.
One guy said I was taking the "fun" out of museums. For him, I am posting a sign I saw recently in the Tokyo National Museum, where they really take the fun out of visiting a museum. (It wouldn't work here, would it? Please note that I am not advocating it.)
Still others confused my message with their worries about elitism. The two are not related, in my mind or in my essay.
But many more people agreed and urged me not to be intimidated. The Times normally prints letters that represent the whole of what was legitimately said and this indicates to me that it received many more positive letters than negative ones.
A few articulated a point I did not make as well as I might have in my essay: viewing great art is, or should be, an experience in and of itself. Museums should be cultivating the ability of people to have those sorts of art experiences, rather than offering participatory experiences that are, to my mind, much less enlightening.