I've been privileged in my lifetime to have visited a lot of art museums, but I've never really thought in terms of ranking them. Yes, I agree with conventional wisdom that the Met and the Louvre probably have the "best" collections, but London's big three — the National Gallery, the British Museum and the Victoria and Albert — taken together would exceed their riches. It's just that Britain divided things up differently. But is that fair? Then wouldn't we combine the Met with MoMA and the Guggenheim? Or the Morgan or the Frick? So you see that doesn't get one anywhere.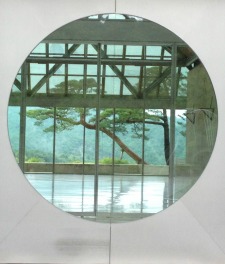 Exactly which city has the most and the best art is an entirely separate question I wouldn't attempt to answer here without a lot of research.
Now, which buildings are the best for displaying art is a much more reasonable question. People always cite the Beyeler in Basel, and I agree, and the de Menil in Houston, and I disagree. There's the Guggenheim-Bilbao for contemporary art — I like that one.
Even if I couldn't rank them, I think the number of contenders is pretty small — especially in recent years, architects' egos seem to outweigh the consideration of displaying art.
That's why I really like the Miho Museum in Japan, which was designed by I.M. Pei. I went there when vacationed in Japan in June, and I wrote about the building and the collection for The Wall Street Journal. My article is in tomorrow's paper, headlined A Trek Well Worth Taking. It's a beautiful building in a gorgeous setting, and the galleries Pei created speak to the art, not to his ego.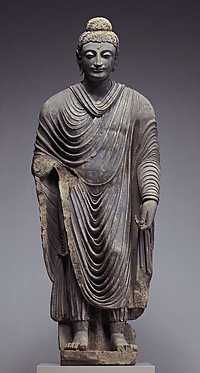 Oh, yes, I am sure he has a big ego but somehow he figured out that it might be better enhanced with a building that works, instead of one that just makes a statement. This one does both, for reasons you will see in my piece. (A few hints — a transporting entrance, topped by a moon gate door
that looks through the entry hall to a borrowed landscape [at left], and inspired galleries that suit the art in them.) He called it his Shangri-La.
The collection on view, antiquities purchased quickly in the 1990s, is a joy as well (a standing Buddha at right, an Egyptian deity at left). It has many important works of art. Yes, at the outset 16 years ago, there were problems with some fakes — since removed, most experts agree. And some pieces have provenance issues still. In 2001, the museum agreed to return a rare standing bodhisattva to China, which had said the piece had been stolen from Shandong Province in the mid-1990s. In return, China stated that it believed the Miho had bought the piece in good faith. On my visit, the curators I spoke with were honest when I asked questions, saying things like "we don't know when it left China" or "we don't know where that came from."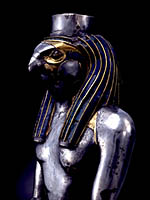 The Miho — where about 70% of the antiquities collection is on view (it has another collection of Japanese art; details in the WSJ article) — has a few parallels with another museum: Crystal Bridges. Like it, the Miho was plunked down in the middle of nowhere. It, too, opened with a comparatively "instant" collection, and the goal of drawing visitors. The Miho is much harder to get to, though, and it's attracting about 120,000 to 130,000 people a year. At least, that's about where it was pre Japan's 2011 nuclear disaster, which cut off some tourism, particularly from China.
It deserves more.
Pei once told an interviewer that his goal at the Miho was to "bring nature and the building into harmony." Does it go without saying that he also brought the art and the building into harmony?