What a great summer for Maine and art. I've mentioned (here) the opening of the Alfond-Lunder Family Pavilion at the Colby College Museum of Art, which in July unveiled the Lunder collection, about 300 of the more than 500 works of American art donated to Colby several years ago.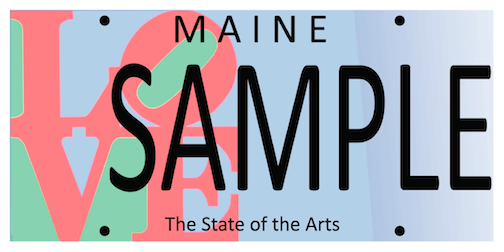 I've been looking for an excuse to mention Bowdoin College's summer exhibition, Maurice Prendergast: By the Sea — I have the catalogue for it, and it look sumptuously wonderful.
And now a little thing that means a lot (hat-tip to Rosemarie van Otterloo via FB): The Maine Crafts Association is seeking just 2,000 Maine residents, "with cars registered in their name," who will pre-pay just $29 for a specialty license plate, that says "Maine — The State of the Arts." It shows Robert Indiana's Love sculpture on a light blue background (at right). Indiana lives in Vinalhaven, Maine.
When that 2,000 goal is reached, the state's Bureau of Motor Vehicles will release the plate to the those people and make the plate available for purchase to other residents. The money will support the arts, though the details are a little fuzzy. Here's what it says on the MCA's website about that:
The specialty plate will serve as a fundraiser for the Maine Craft Association and will have a direct positive impact on the arts in Maine through the organization's marketing, business and outreach programming. The Maine Arts Commission will receive a portion of the funds to put toward their statewide arts initiatives.
What proportion goes where is unclear. Still the MCA support "craft artists" in Maine "with educational activities such as workshops and conferences, subsidized marketing opportunities, Haystack Workshop Weekend, Master Craft Awards, exhibition and demonstration opportunities, and access to markets such as wholesale and retail tradeshows and seasonal stores and markets."
Not every state could say the same — but maybe they will think about it.
Photo Credit: Courtesy of MCA