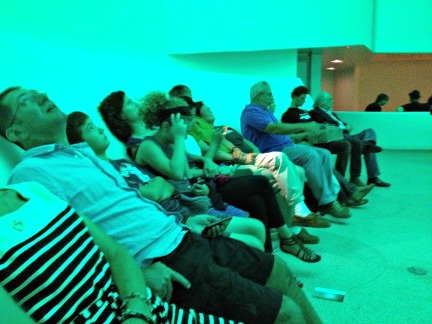 I stopped in at the Guggenheim Museum yesterday to see the James Turrell exhibition and to see how other people were observing Turrell. Surprisingly, there was no line to get in, even on Sunday mid-afternoon — it wasn't raining, but it wasn't sunny either. Just a normal museum weekend day. So maybe the show isn't as popular as I had heard.
Inside, however, was another matter. The rotunda was jammed, as you will see in my pictures. Some people were clearly intrigued, and some people were not paying attention to the changes in the installation at all. They were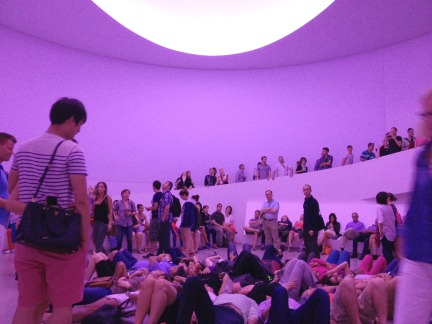 on their cell phones. It was definitely an "experience" for some people; others — fewer in number, I would guess, based on the noise, the running around, etc. — were having an experience with the art.
People wandered through the upstairs galleries far more quickly — no value judgment there, on my part — but it may have something to do with the fact that they are monochromatic and are not dynamic. The room with Ronin was empty. Some pieces, in my opinion, were better than others — I especially like the cube of light, Afrum I (White),  that hung in the corner of one room. At the top, experience kicked in again. There, the Guggenheim has hung a piece which can be seen by a limited number of people at once, and the line to see it was more than 45 minutes long. I didn't wait.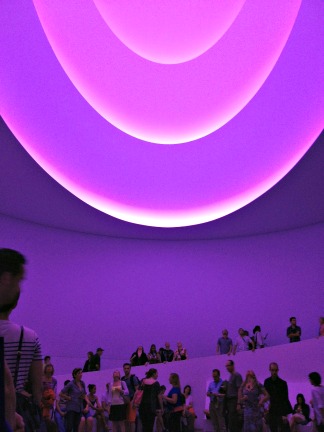 I found the centerpiece, Aten Reign, which fills the rotunda, to be less interesting than Turrell's skyspaces. This seems more like a light show, less like a comment on perception, than the sky spaces. Maybe that had to do with the festival-like atmosphere, I don't know. But I feel as if I don't have to go back, sorry to say.
One oddity must mention: everyone was taking pictures with their phones and some even had large cameras, loaded with good lenses. Every now and then, a guard would holler out "no photos." No one paid much mind.
I do wonder why the Guggenheim — or, if it's Turrell, why Turrell — would saddle the show with that restriction. Last week, the Getty lifted all restrictions on the images it holds right to — people can use them for free. It was the first step to "open content," the museum said.
UPDATE, 8/21: This subject was recently taken up on the blog of the Peabody Essex Museum.